Best Rosacea Creams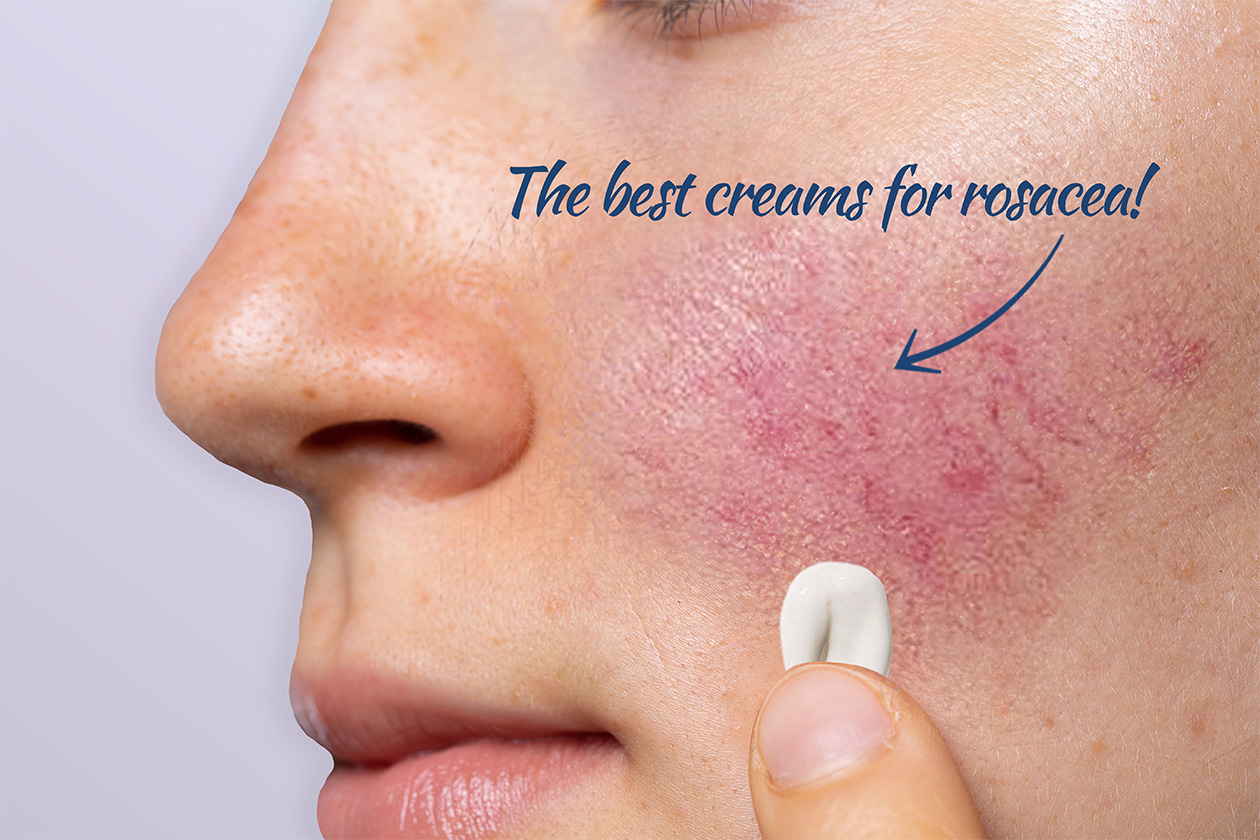 Best Rosacea Creams
Rosacea is a skin disorder caused by inflammation. We do not completely understand what causes it. What we do know is that skin care products with soothing and calming ingredients can help soothe burning red rosacea skin. Most people with rosacea have dry skin. For tis reason- the best rosacea treatment products are rosacea creams because they hydrate and soothe the skin. If you have oily skin, a rosacea serum may be a better option for your oily skin type.
Rosacea Creams
These creams are cosmeceutical products that are not FDA approved for rosacea but are often used by dermatologists to treat rosacea. They may be used in conjunction with prescription rosacea medications depending on the severity and type of rosacea.
Zerafite Soothing and Calming Moisturizer
This calming cream contains grape seed oil, argan oil, portulaca oleracea extract, niacinamide and allantoin to soothe red inflamed skin. This soothing skin barrier cream has MLE technology that has been shown to reduce inflammation by moisturizing and calming the skin. Gives superior hydration to dry parched skin. Apply over your rosacea medication. Best rosacea cream for dry skin types and mature skin.
Essopi Triple Antioxidant Cream-
This light face cream contains green tea, caffeine and resveratrol. Can be used on top of a prescription rosacea medication. Best rosacea cream for combination and oily skin types.
Soothing Ingredients To Look For In Rosacea Creams

Allantoin
Almond oil
Aloe
Argan oil
Bisabolol
Caffeine
Camellia Sinensis Leaf Extract
Caproloyl Salicylic Acid
Chamomile
Cucumber
Fever few
Glycine Soja Oil
Glycyrrhiza glabra
Grapeseed Oil
Green tea
Licorice Extract
Linoleic acid
Macadamia Nut Oil
Niacinamide
Panthenol
Portuaca Oleracea Extract
Resveratrol
Salicylic acid
Safflower Oil
Selenium
Vitamin B5
Silybum marianum
Sunflower seed oil
Zinc

Prescription Rosacea Creams
Prescription Rosacea creams that constrict blood vessels:
Rhofade (oxymetazoline)- use every am to constrict blood vessels on the face. Works for about 12 hours. Best results seen after 8-12 weeks of use.
Prescription Rosacea creams that kill mites on the skin:
Soolantra (ivermectin) – kills Demodex mites on the skin. Use once a day in morning or evening. You may see results as soon as 2 weeks but give it at least 8- 12 weeks to work before giving up.
Prescription Rosacea creams that reduce inflammation:
Azalea (azelaic acid) Cream- this rosacea cream also has skin lightening and anti-aging activities.
Aczone (dapsone) is an acne treatment product that is often used as a rosacea cream but is not FDA approved for rosacea. We do not have a lot of clinical trial data on dapsone for rosacea.
If you do not know your Baumann Skin Type®, take the skin type quiz to get a personalized skin care routine to treat rosacea. This is the best way to find which rosacea creams are right for your unique skin.
Take The Skin Type Quiz
© 2006 - 2021 Skin Type Solutions