The Best Skin Cleansers by Skin Type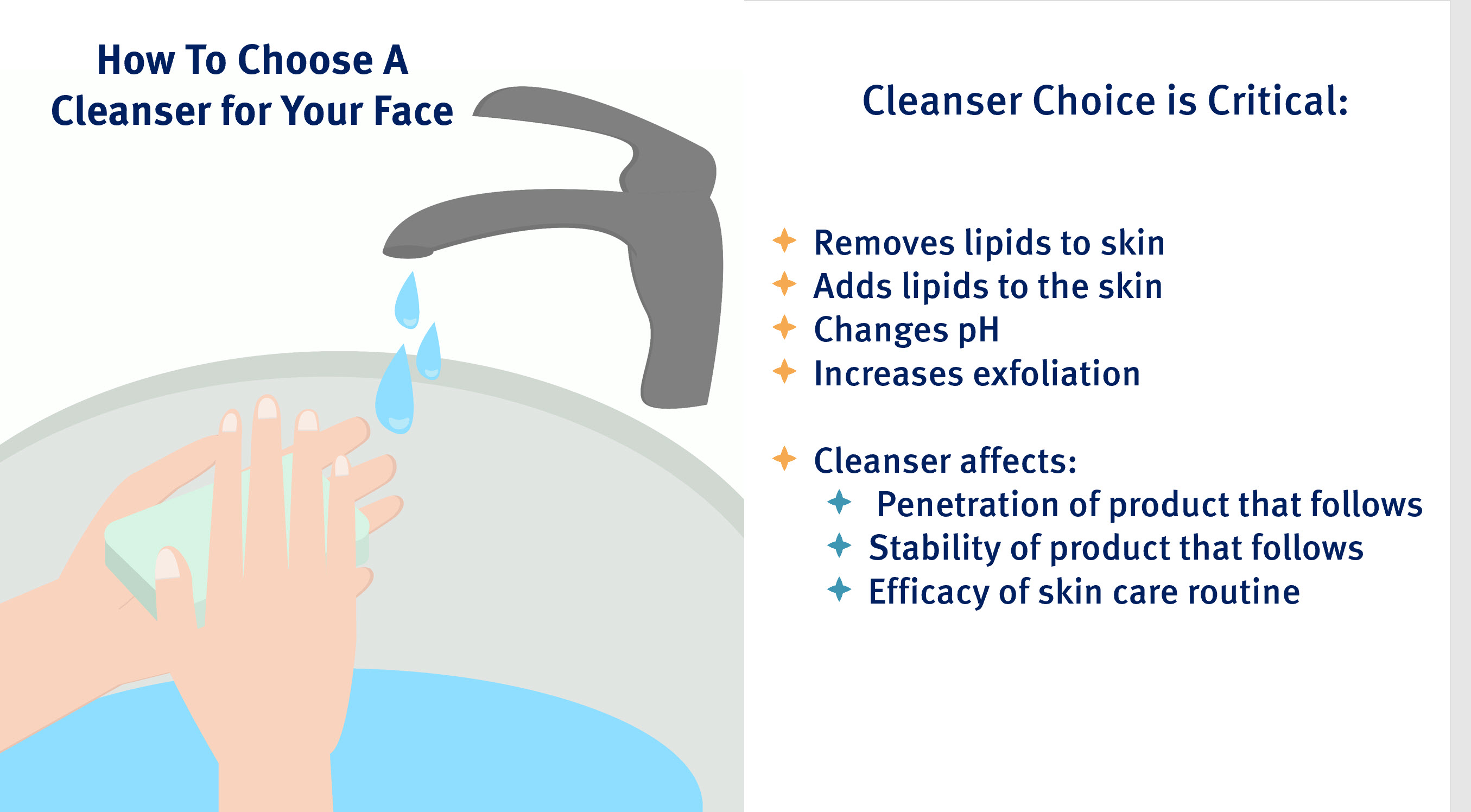 Whether your skin is sensitive, acne-prone, oily, or dry, using the right cleanser can have a profound effect on your skin's overall health and appearance. The best skin cleanser for you will depend on your Baumann Skin Type®. A cleanser is an important step in a skin care routine. This is your guide to the best cleansers for dry, oily, acne-prone, and other skin types. However, we highly recommend that you take the skin type quiz before buying a cleanser because over 80% of people incorrectly guess their Baumann Skin Type® and choose the wrong cleanser. If you want to learn more about skin cleanser science - click here.
Why Choosing the Best Cleanser for Your Baumann Skin Type® Is Important?
Cleansers are critical in a skin care routine customized for your skin type. In addition to cleaning pores, removing dirt, sweat, sunscreen and makeup, cleansers prep the skin for the products that follow. The choice of cleanser will determine how much exfoliation occurs which will affect the ability of serums that are applied after cleansing to penetrate into the skin. In other words, to get the most value from your skin care products, you must choose a cleanser that enhances the efficacy of the rest of your skin care routine.
Do You Need Two Cleansers?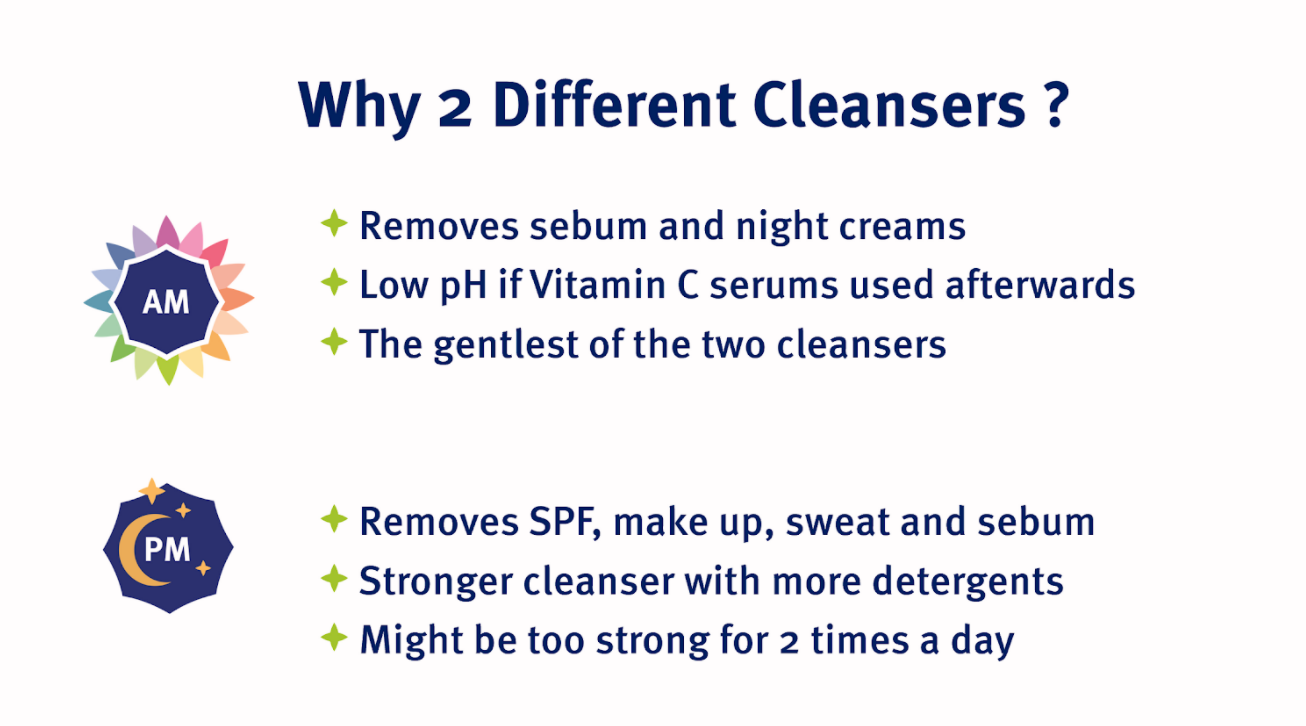 The number of cleansers we recommend in the skin care routine customized for your Baumann Skin Type will depend upon:
Your Baumann Skin Type®
Your doctor's preferences (if you are using a provider code then the routines are the ones recommended by your doctor)
Which Skin care routine option you choose: Pre-Built Kit or a Fully Custom Kit. These are options when you don't have a STS approved doctor selected.
Which phase you are in the skin care routines. (Each month may have a different phase of products as your skin type improves.)
In some cases, you will have one cleanser in your regimen and in others, you may have 2 cleansers. In some cases, you may choose to use an exfoliating scrub to brighten the skin 2-3 times a week. (Use sparingly if you have sensitive skin or are using any other exfoliators including retinoids).
Is Double Cleansing the Skin Important?
You only need to double cleanse your face if you have waterproof or sticky sunscreen, streak-resistant makeup, or face paint that is hard to remove. When you double cleanse, first use a cleansing oil or makeup remover, followed by the best cleanser for your skin type.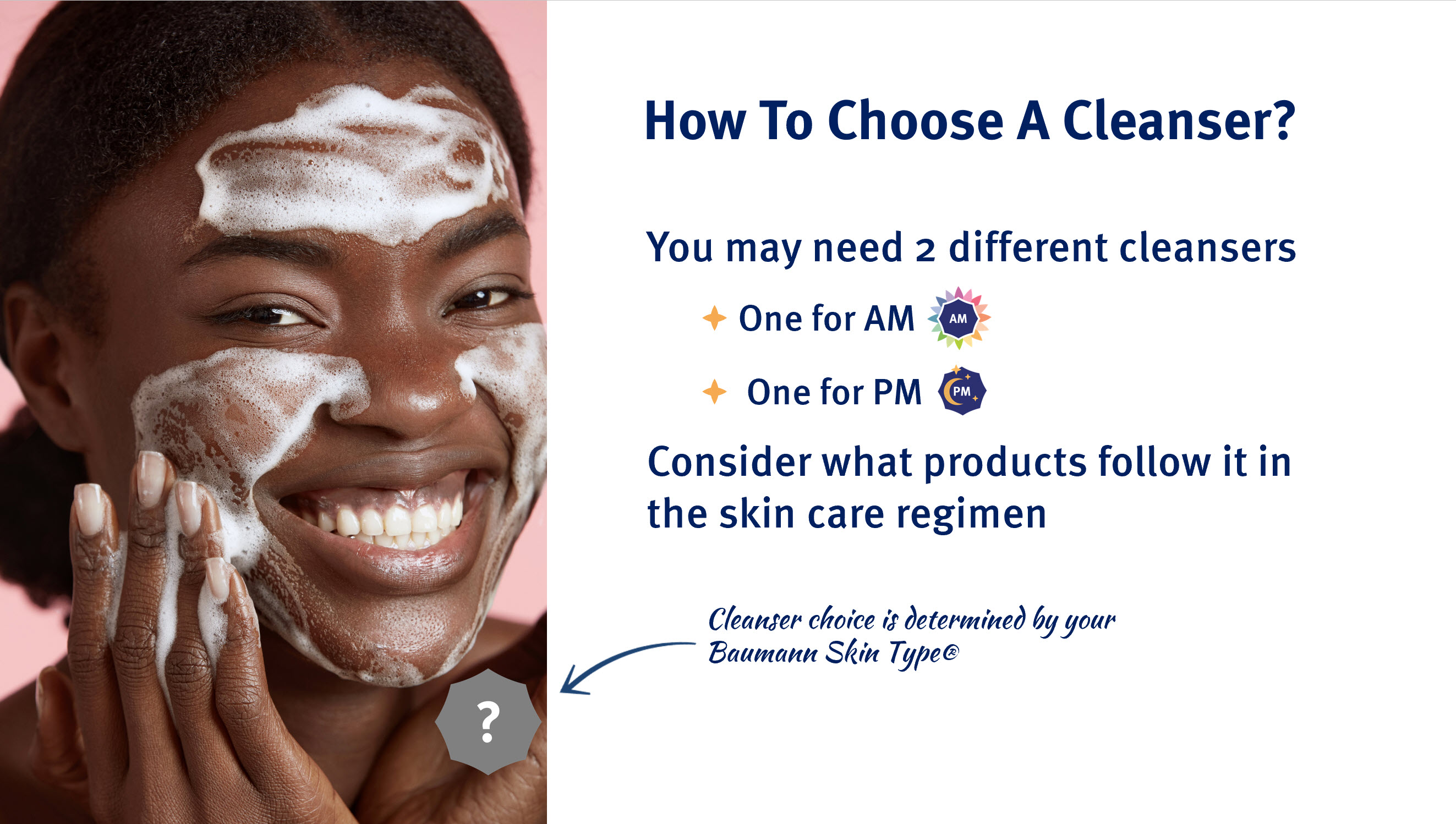 How To Choose A Cleanser?
It's easy-! Take the free quiz now and we will tell you which cleanser to use.
Our dermatologists will choose your cleanser based upon
Your Baumann Skin Type®
What products follow the cleanser in the skin care routine
Your doctor's preferences (if you enter a provider code)
You will be able to customize the recommended cleanser in your skin care routine based on
Your budget
Your brand preference
Other preferences
Here are some thoughts on our dermatologist's favorite cleansers for various skin conditions. Don't forget, a cleanser works best as part of a comprehensive customized skin care routine.
Best Cleansers for Dry Skin
Dry skin types need to use a cleanser that will not cause further damage to the skin barrier and will deposit hydrating lipids on the skin's surface to strengthen and repair the skin barrier. These are some of the best facial cleansers for dry skin to include in your dry skin care routine. Creamy cleansers are the best face and body cleansers if you have eczema or psoriasis. If you have eczema, using a dry skin cleanser in addition to a barrier repair eczema cream is an important part of your skin treatment.
PCA Skin Creamy Cleanser - Dry skin types often look for a cleanser that makes their skin feel fresh and clean without leaving their skin feeling dry and tight. This moisturizing cleanser is the perfect choice for dry skin types looking for this fresh feeling. However, this is a light cleanser, so it's best used as a morning face wash, especially before working out.
Best Cleansers for Sensitive Skin
The best cleansers for sensitive skin have anti-inflammatory ingredients depending on the type of sensitive skin that you have. There are four sensitive skin subtypes: acne, rosacea, stinging and burning, and contact dermatitis or allergies. Generally speaking, sensitive skin types should look for a gentle, hypoallergenic cleanser or gentle makeup remover that won't cause irritation or damage to the skin barrier. However, it is best to choose a cleanser developed for your sensitive skin subtype.
Some of the best cleansers that are tolerated by rosacea skin types, sensitive skin and hypersensitive skin include:
VMV Hypoallergenics Creammmy Cleansing Milk - This cleanser is hypoallergenic, avoiding over 100 of the most common allergens found in other skincare products. If you struggle with skin allergies, redness, flaking, or other signs of irritation, this cleanser is an excellent choice.
Best Cleansers for Acne-Prone Skin
Acne-prone skin types generally do best with a salicylic acid cleanser. Salicylic acid clears pores, reduces inflammation and pigmentation, and can even help to prevent acne scars. Benzoyl peroxide cleansers can also be used to treat and prevent acne by killing acne-causing bacteria, although they may irritate some dry skin types. Before choosing an acne cleanser, you must first decide if you have oily or dry skin.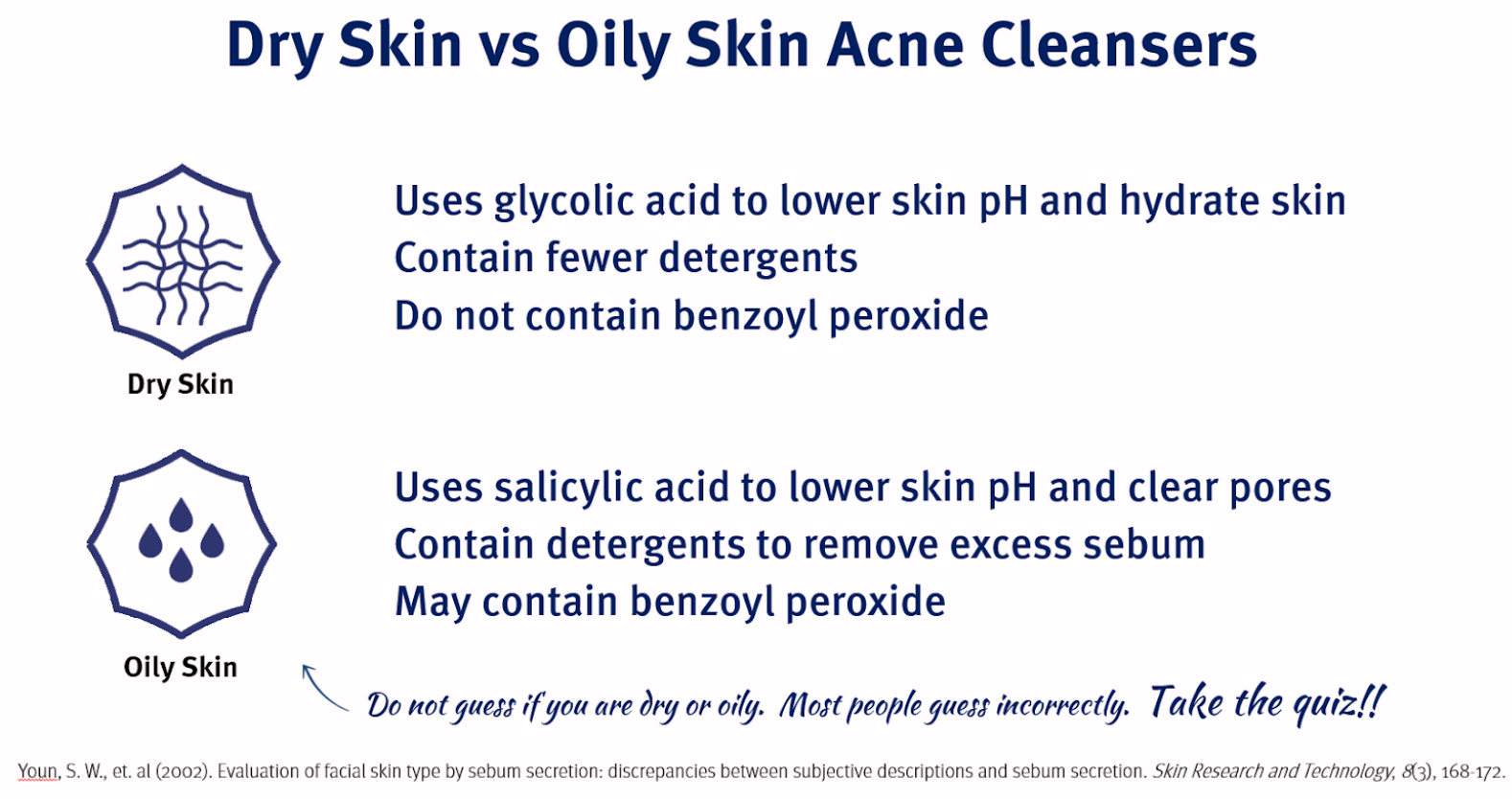 These are some of the best face washes for oily acne prone skin:
Nolio Salicylic Acid Cleanser - This popular face wash for acne is formulated with a low pH and anti-inflammatory ingredients like salicylic acid, making it an excellent choice for both acne-prone skin and oily skin types.
La Roche-Posay Effaclar Medicated Gel Acne Cleanser - This unscented acne cleanser contains 2% salicylic acid to effectively clear pores and prevent breakouts and is appropriate for sensitive skin types, acne-prone skin, and oily skin. This favorite drugstore face wash can be found at most local drugstores, so it's easy to stock up on no matter where you live.
SkinCeuticals Clarifying Exfoliating Cleanser - This exfoliating cleanser contains salicylic acid, glycolic acid, and lactic acid, as well as gentle exfoliating pumice beads to clear pores and treat pigmentation imperfections caused by acne.
Replenix Benzoyl Peroxide Acne Wash 5% - With half the concentration of benzoyl peroxide compared to the 10% version, this Replenix acne face wash offers a gentler option for clearing pores and resolving acne. However, 5% benzoyl peroxide is still too strong for redness-prone skin.
PCA Skin BPO 5 Percent Cleanser - This is a great choice for oily skin types struggling with acne, as the 5% benzoyl peroxide it contains effectively kills the bacteria that causes acne. Although this acne face wash also contains aloe and glycerin to help soothe the skin, it is still typically too strong for dry and rosacea prone skin types.
Face wash advice for dry acne prone skin:
Dry acne prone skin types will have more problems tolerating a skin care routine for acne. This is because benzoyl peroxide, retinoids and salicylic acid all dry the skin. Retinoids are critical to prevent future acne , so your goal in treated dry acne prone skin is to use a skin care routine for acne that allows you to tolerate a retinoid. A gentle toner like Element 47 Skin Fortifying Mist can be used after a nonfoaming cleanser while you are adjusting to a retinoid. Once you are tolerating a retinoid every night, adding a hydroxyacid cleanser lowers the skin's pH which makes it less hospitable to acne-causing bacteria.
Acne cleansers are too irritating for rosacea-prone skin. Rosacea-prone skin should use cleansers with anti inflammatory ingredients.
A sensitive skin subtype, rosacea is characterized by underlying skin inflammation that can cause redness and bumps called pustules. The best cleansers for rosacea contain soothing anti-inflammatory ingredients and do not contain ingredients known to cause irritation or dryness. These are a few of the best face washes for people with rosacea:
VMV Hypoallergenics Red Better Deeply Soothing Cleansing Cream - Formulated specifically to calm redness and inflammation, this gentle cleanser is an excellent choice for rosacea and other sensitive subtypes. Like other VMV products, this soothing cleanser is hypoallergenic, excluding more than 100 common skincare ingredients known to cause allergies and irritation. If you have many skin allergies and rosacea- this dermatologist-developed cleanser is for you.
Nolio Salicylic Acid Cleanser - This cleanser works on pimples associated with rosacea. Is best for oily skin rosacea-prone skin types such as OSNW and OSPW Baumann Skin Types. Not for dry skin types.
La Roche-Posay Hydrating Gentle Soap-Free Cleanser - This gentle, allergy-tested cleanser is one of the best choices for very sensitive skin types, including those with rosacea and eczema. It contains non-comedogenic moisturizing ingredients to help restore proper barrier function without causing further damage or irritation. However, because it is so gentle, this rosacea cleanser is best used in the morning and may not remove all sunscreen or makeup at the end of the day.
Best Calming Cleansers for Skin Allergies and Stinging
If your sensitive skin tends to sting, burn, or turn red when using certain products, look for a face wash that contains soothing fatty acids such as stearic acid and linoleic acids to help calm inflammation. Avoid cleansers that have an acidic pH or that contain vitamin C, which can make stinging and burning worse.
Some of the best cleanser options for allergies and stinging include:
VMV Hypoallergenics Superskin Creammmy Cleansing Milk. This brand was developed by a dermatologist who specializes in contact dermatitis and skin allergies. All VMV products are hypoallergenic and are thus excellent choices for anyone with skin allergies. Choose this particular sensitive skin cleanser for added hydration.
Zerafite Creamy Cleanser. The best moisturizing cleanser for dry skin on the face and body. The best moisturizing cleanser for sensitive skin. This moisturizing cleanser can be used on the face or body. It moisturizes the skin with fatty acids, repairing the skin barrier. This moisturizing cleanser is an excellent eczema body wash. It can be used as a shaving cream for sensitive skin.
Best Cleansers for Combination Skin
People with combination skin tend to fit into one of two categories: 1) those with excess sebum production only in the T-zone, usually caused by hormonal fluctuations or stress, or 2) those with dry skin in the winter and oily skin in the summer. When choosing the best cleanser for combination skin, it is important to first know your Baumann Skin Type® and the type of combination skin you have. Generally speaking, some of the best face washes for combination skin include:
Medature Platract Cleansing Gel. Although a foaming cleanser, this face wash is gentle enough that it does not injure the skin barrier, making it a great choice for combination skin. Foaming cleansers help to remove excess oil, and hydrating ingredients prevent over-dryness or flaking. This product can also be used as an eyelash cleanser because of how gentle it is.
Skinmedica Sensitive Skin Cleanser. This face wash contains soothing botanical ingredients such as chamomile and cucumber extract, making it a good choice for sensitive skin and those with combination skin that tends toward the sensitive or dry side. However, this cleanser is not the best choice for highly allergic skin types.
Best Cleansers for Oily Skin
Foaming cleansers are great for oily skin because the detergents they contain surround and remove excess oil and sunscreen from the skin. While some resistant oily skin types can tolerate foaming cleansers in the morning and evening, some may do better using these cleansers only at night. Once you take the quiz we will tell you how many times a day you should use your cleanser.
Nolio Foaming Cleanser. Suitable for all oily skin types, this foaming cleanser is one of the best face washes to remove makeup, sunscreen, and excess oil. Formulated with non-comedogenic ingredients, the Nolio foaming cleanser is also a great choice for oily skin types with blackheads or breakouts.
La Roche-Posay Effaclar Purifying Foaming Gel Cleanser for Oily Skin. This gentle foaming gel cleanser is formulated specifically for oily and combination skin types, as it effectively removes oil, makeup, and sunscreen without over-drying the skin.
Skinceuticals Purifying Cleanser. This cleanser for oily skin contains both glycolic acid and glycerin to exfoliate the skin and remove oil and sunscreen without causing excessive dryness or flaking. To remove mineral sunscreen, wash twice using this cleanser and follow with a moisturizer that's suitable for your Baumann Skin Type®.
Best Renewing Cleanser for Dull Skin
To revitalize dull, lackluster skin, use a renewing cleanser that contains hydroxy acids or other exfoliating ingredients to enhance exfoliation and remove dead skin cells that build up on the skin's surface. There, these dead cells prevent light from reflecting off of your skin, contributing to a dull complexion. Smoothing the skin's surface with products that renew skin will transform your complexion to a bright, radiant one — sometimes referred to as "glass skin."
Essopi Glycolic 10% Cleanser. This low-pH cleanser contains glycolic acid to exfoliate away dead skin cells and debris, as well as prep your skin for treatment products that you apply after using it. Sensitive and dry skin types do better with a hydroxy acid cleanser like this one, which is gentler than physical scrubs.
PCA Skin Facial Wash. This is a non-irritating, gentle cleanser that uses lactic acid to exfoliate the skin without causing irritation or skin barrier damage. Because it also contains soothing ingredients like aloe and allantoin, this is one of the best exfoliating cleansers for dry and sensitive skin.
SkinMedica AHA/BHA Exfoliating Cleanser. This renewing and resurfacing cleanser contains both alpha hydroxy acids and beta hydroxy acids to give dull skin an instant radiance. Because it contains both AHAs and BHAs, this exfoliating cleanser is best for oily or combination skin types and is not suitable for sensitive skin types.
Skinceuticals LHA Cleansing Gel. This exfoliating cleanser is one of the best options for dry skin types with acne. Its non-comedogenic formula gently clears pores while simultaneously exfoliating the skin's surface to treat acne and a dull, uneven texture at the same time.
Best Cleansers for Melasma
Exfoliating cleansers such as hydroxy acid cleansers are the best face washes for treating melasma. Melasma is a type of skin pigmentation often found in pregnant women. Melasma is difficult to treat and every product in a melasma skin care routine is important to help melasma creams work better will speed how fast your skin clears.
Exfoliating cleansers help speed up melasma treatments and help to treat hyperpigmentation by removing the outermost layer of skin (a process called desquamation) so that the new, non-pigmented cells can rise to the surface of the skin. These should be followed by tyrosinase inhibitors to prevent the formation of new pigment. There are different types of exfoliating cleansers, but a low pH exfoliating cleanser is best of you are using a Vitamin C serums to treat hyperpigmentation because Vitamin C serums need a low pH to penetrate into the skin. Prepping the skin with a low pH cleanser prior to using melasma creams and Vitamin C serums is an important part of a skin care routine for melasma.
Click here to learn more about melasma cleansers.


Best Post-Procedure Cleansers
The goal of pre-and post-procedure cleansers is to reduce the risk of infection caused by bacteria while remaining gentle on recently injured and/or susceptible skin. The best cleansers to use after a skin procedure include:
GCP Pre- and Post-Procedure. This physician-tested cleanser contains silver, making the skin an inhospitable environment for bacteria. Its safe, gentle formula is ideal for using both before and after various procedures.
SENTE Daily Soothing Cleanser. An ultra-gentle, soothing, and hydrating cleanser, SENTE Daily Soothing Cleanser is one of the best face washes to use following cosmetic procedures such as a chemical peel.
La Roche-Posay Hydrating Gentle Soap Free Cleanser. Perfect for hypersensitive skin types, face wash also doubles as a post-procedure cleanser. Its gentle hydrating ingredients will aid in healing without causing irritation or barrier damage.

Best cleanser for men
Men should choose cleansers based on their Baumann Skin Type. Cleansers for men differ from cleansers for women only by the packaging and fragrance. So- it is most important to choose a cleanser by skin type, not by whether or not it is marketed for men.
Can you use a face wash as a shaving cream?
If you have a very thick beard with thick hairs, you need to use a traditional shaving cream that has chemicals in it to weaken the hair so it is easier to cut. However, these traditional shaving creams can irritate dry and sensitive skin. If you have dry sensitive skin, try using a creamy cleanser to wash your face and then shave. We recommend washing your face first and leaving the cleanser on to let the steam and warmth of the shower soften the hair. Wash your hair and body while leaving the creamy facial cleanser on your beard area for a few minutes. Then, when you are ready to shave, the hair should be softened. The nice thing about using a creamy cleanser such as Zerafite Creamy Cleanser to shave is that soothing hydrating lipids are left on the skin, leaving it feeling moisturized after shaving.
Cleansers are underrated. They play a very important role in a customized skin care routine. Your cleanser choice will affect the efficacy of the entire skin care regimen- so choose carefully.
© 2006 - 2022 Skin Type Solutions