The Best Medical Grade Skincare Lines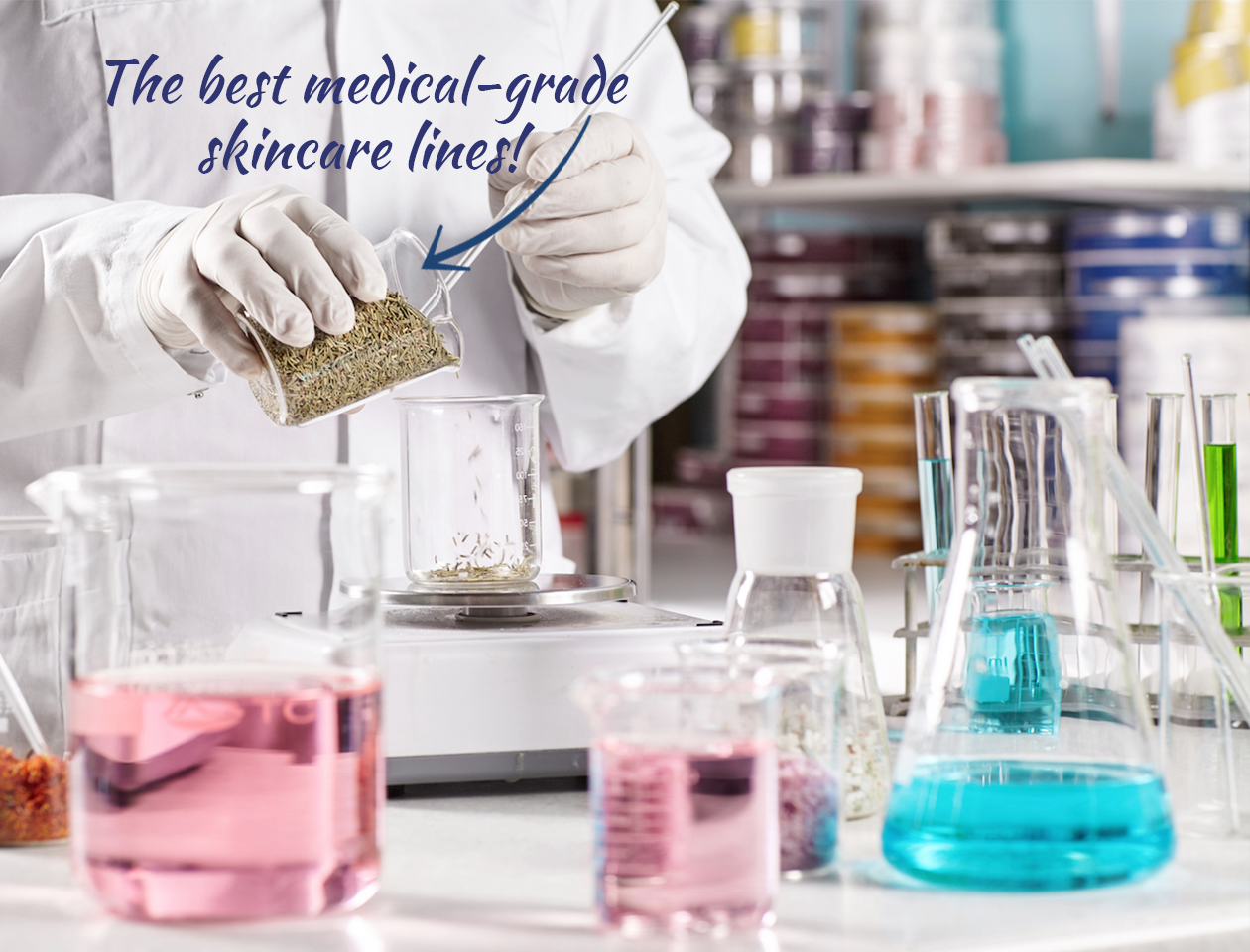 "What are the best medical grade skincare lines?" is a question that I get almost daily in my dermatology clinic and when I lecture at dermatology meetings. This is a great question for me because I am a dermatologist, researcher and author of the leading textbook on Cosmetic Dermatology (McGraw Hill) used by dermatologists, author of the encyclopedic book "Cosmeceuticals and Cosmetic Ingredients" (McGraw Hill) and a New York Times bestseller on skincare called The Skin Type Solution (Bantam).
Before I tell you my favorite medical grade skincare lines, first you need to understand what I mean by the term "Medical grade". Click here to learn more what I mean by Medical Grade Skincare Lines.
I am sure that if you are asking which medical grade skincare line is best, then you must not be happy with your skin. My dermatologist advice on medical grade skincare lines starts with this:
Know your Baumann Skin Type! The advice I would give you depends upon your skin type. This is why I made the Baumann Skin type quiz free so you have no excuse to not know your skin type. Once you know your skin type, we can give you much better skincare advice on which medical grade skincare line to use.
Medical Grade Skincare Lines
Below are some dermatologist recommended medical grade skincare lines. This advice is general. You will receive more accurate information once you take the skin type quiz and a complete skin care routine is recommended to you. Many of the medical grade skincare lines mentioned below were invented by dermatologists. That medical grade skincare routine may include some of these skincare lines (in alphabetical order):
Defenage
®
-
Defenage is the only skincare brand that uses defensins to turn on the LGR6+ stem cells in the hair follicle. These stem cells repopulate the entire epidermis making skin look younger and brighter in 2 weeks. My favorite product is the Defenage 8 in 1 Bioserum. It is pricey but if you need to even your skin tone and you are not willing to wait the usual 12-16 weeks for results from skincare products. This product will help you get faster results if you use it in the way we show you after you take the skin type quiz.
Element 47
®
-
Element 47 is a brand designed for patients with acne to go along with acne treatment medications. It uses natural ingredients to make the skin less hospitable to acne causing bacteria without drying or irritating the skin. My favorite product is Element 47 Skin Fortifying Mist.
Essopi
®
-
Essopi is a brand that consists of the most important skincare products to use to prevent skin aging and keep skin healthy. Essopi products include sunscreen, antioxidants and retinols which should be part of your "standard operating procedure" or SOP to keep skin healthy. (this is where the name Essopi comes from). This brand for ideal for mature skin types. These Essopi products can be found here. These should always be used in the correct skincare routine order or you will get red and irritated.
Jan Marini®
Jan Marini is a medical grade skincare line that specializes in many technologies including a Vitamin C serum that does not sting and a very strong retinol/ benzoyl peroxide combination to treat acne. This high-quality brand made a splash when it was the first to come out with a product to increase eyebrow length. They have continued in their tradition of cutting-edge medical grade skincare ingredients. My favorites are the Jan Marini C-ESTA serum because it is the cheapest of the good Vitamin C serums and it does not sting. The C-ESTA serum must be used in the correct step number in the regiment to make sure the Vitamin C can penetrate into the skin. Take the quiz and see what skincare routine order is right for your Baumann Skin Type.
Nolio
®
Nolio is a brand specifically designed for oily skin types. It consists of cleansers to help clear pores and prevent blackheads and remove excess oil. Take the skin type quiz to see if you should use these once a day (One cleanser in the morning and one in the evening) or if you can use one of these twice a day. It depends upon your Baumann Skin Type.
Sente
®
Sente is the only skincare brand that contains the heparan sulfate analog- also known as heparan sulfate (HS). Heparan sulfate is a glycosaminoglycan that naturally occurs in skin. It helps cells communicate with each other. If you choose to use an expensive growth factor skin care product (which I am not a fan of), you are wasting your money if you skin cells cannot "hear" the growth factor signals. HS helps cells hear the growth factor signals better by surrounding growth factors and helping them get to the target receptor. HS is also hydrating because glycosaminoglycans are strong humectants. My favorite is the Sente Dermal Repair Cream. Make sure you take the skin type quiz to know what step to put this in your regimen. If you use it in the wrong order- you are wasting your money on this product.
Skinceuticals
®
Skinceuticals was started by dermatologist Sheldon Pinnell who discovered that ascorbic acid entices skin cells to make collagen. He is also the one who figured out that it is very hard to get vitamin C into the skin and that it penetrates best at a pH or 2-2.5. The cleanser you use before the Vitamin C will affect how well the vitamin C works so make sure you use a low pH cleanser before the Vitamin C products. My favorite Skinceuticals Vitamin C is the Skinceuticals Serum 10 AOX+ because it is the cheapest and I want my patients to use a lot of it. You should be using this once or twice a day and you should finish the bottle in a month. The serum turns dark and looses efficacy quickly, so after a month get a new one. This is exactly why I recommend to save money and buy the cheaper vitamin c option. Vitamin C is not for every skin type. For example, if you have undetected rosacea, vitamin C may sting and irritate your skin. Taking the skin type quiz will help you find out if this product is right for you.
Skinmedica
®
This was the first brand to come out with growth factors. It was started by a dermatologist. I mention them for historical purposes. I am not a fan of their growth factor technology because there are many different growth factors in the products that it is impossible to do evidence-based research and safety trials.
Zerafite
®
The Zerafite brand is dedicated to repairing the skin barrier as its name implies. (Xerophyte is a plant that loves the dry climate) It is designed for dry and eczema prone skin types. Every product in the Zerafite lines contains lipids in the proper ratio to repair and protect the skin barrier. Many of the Zerafite products contain MLE technology which has been shown to hydrate and soothe sensitive skin.
How To Find The Best Medical Grade Skincare Routine?
There are 3 ways to find the best skincare routine with medical grade skincare lines:
Find a medical provider here

and go to their office

Schedule an

online consult

Or do it now- for free.

Take the quiz

and find the best medical grade skincare routine for your Baumann Skin Type. In 5 minutes you will be on the right track to skin health.
© 2006 - 2022 Skin Type Solutions