Aging Skin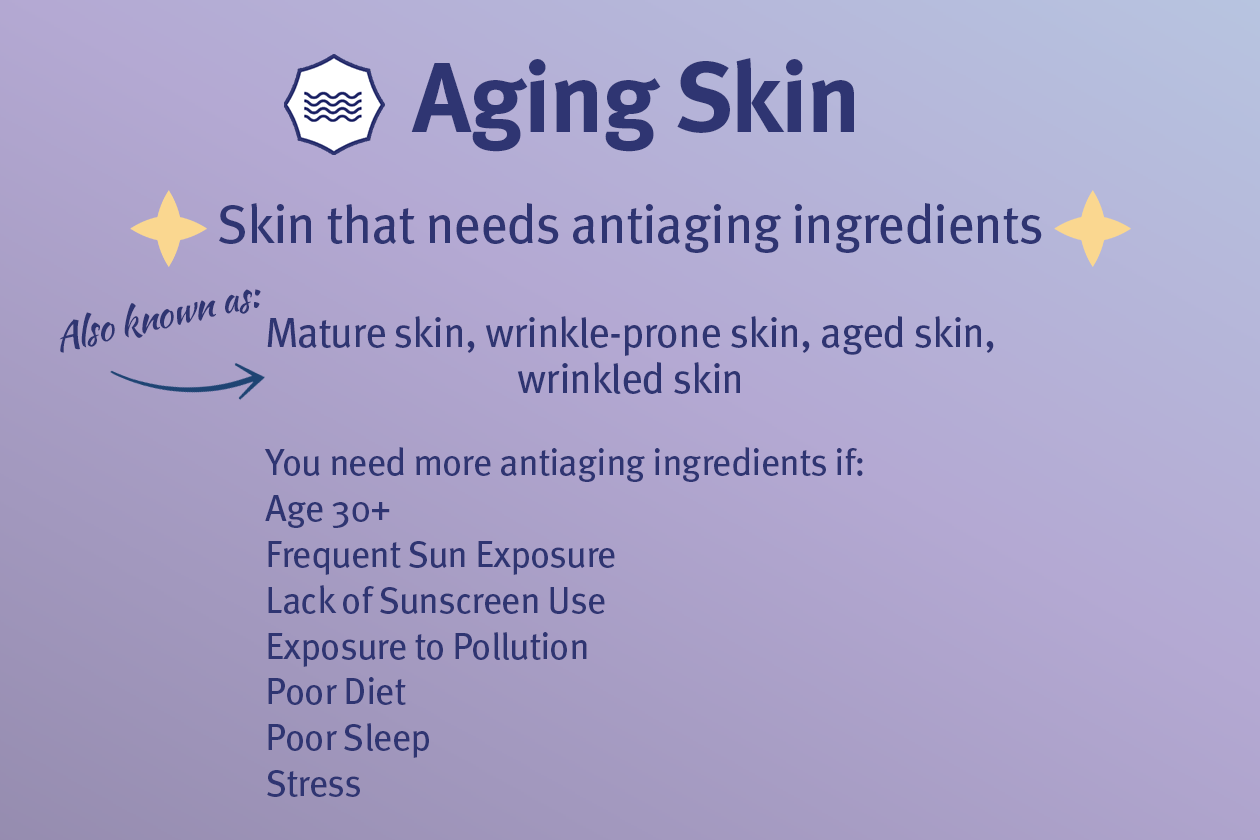 In the Baumann Skin Typing system, aging skin is called "Wrinkle-Prone" skin. Antiaging skincare should begin at age 30. Antiaging skin care is important to help prevent aging skin. If you have a lot of sun exposure or poor lifestyle habits that speed skin aging, an antiaging skincare routine should be started even earlier. Taking the skin type quiz will identify if you need antiaging skin products even if you are under 30 years of age.
Anti-Aging Skin Care
Aging skincare depends upon your Baumann Skin Type® and which barriers to skin health you have that are speeding skin aging and affecting your skin's health. Using the wrong antiaging skin care is not only a waste of time and money but can also affect your skin's health and speed skin aging. It is best to know your skin type before buying ANY antiaging skincare because these products are expensive and can be harmful if not used properly.
When Should You Start Using Anti-Aging Products?
There are 8 Baumann Skin Types that have increased aging and need antiaging skincare. Each of these is either over 30 years of age and/or has lifestyle habits that speed skin aging. There is no perfect age to start using antiaging products- it depends upon your lifestyle habits. Take the skin type quiz to answer the common questions "When should I start using antiaging products?" I will give you a hint- if you are 30 years old or you have frequent sun exposure, pollution exposure, you smoke, have frequent stress, poor sleep and a poor diet, you should start using antiaging skin care products now.
These Baumann Skin Types should begin using antiaging products early:
Take the skin type quiz to find out if you are one of these Baumann Skin Types® that should begin using antiaging products early.
Why Should I Start Using Anti-Aging Products?
Antiaging skin care products can prevent skin aging when started early. Read here about mature skin, the definition of mature skin, and why you need antiaging products before you get wrinkles. The sooner you begin anti-aging skincare products, the more wrinkles you will prevent. Of course- antiaging skincare involves much more than skincare products. Healthy lifestyle habits help prevent premature aging of the skin.
Anti Aging Skin Care Routine
The best antiaging skin care routine should contain ingredients that prevent skin aging. These aging prevention skincare ingredients should include scientifically proven antiaging ingredients. These may include antioxidants, retinoids, growth factors, heparan sulfate, defensins, peptides and other ingredients to slow skin aging. The best antiaging ingredients to use depends upon your Baumann Skin Type. Your skincare should target all the various causes of aging based upon your underlying barriers to skin health and your lifestyle habits. The best antiaging skincare routine order should be based on which ingredients are best for your aging skin. The order that antiaging skincare products are applied determines how well they work, so follow your dermatologist-recommended antiaging skincare routine exactly as prescribed.
Best Anti-Aging Cream
There are many products that claim to eb the best antiaging cream. However- ask any dermatologist what are the best antiaging products and they will all tell you the same thing:
Sunscreen

Retinoids
We do not always think of sunscreen as an antiaging skin care product- but it is the best way to prevent skin aging. Daily use of even a low-level sunscreen of SPF4-10 used every day was shown to reduce lifetime exposure to the sun by 50%! The best sunscreen for antiaging is the one that you will wear every day- so choose an inexpensive sunscreen that you liek the feel of. We recommend using a tined SPF every day instead of a moisturizer. Do not depend on a facial foundation with a moisturizer. They are not as effective to prevent skin aging as tinted sunscreen is.
Retinol Anti-Aging Products
The second best antiaging ingredient is a retinol antiaging product. Retinol is in the retinoid family. Retinoids are Vitamin A derivatives that are considered the gold standard in evidence-based skincare antiaging products. Retinoids come in prescription retinoids, medical-grade retinoids, and cosmeceutical retinoids.
Retinol is the most common and most effective form of retinoid in cosmeceuticals and medical-grade antiaging skincare. Avoid using antiaging retinol products that contain large amounts of retinyl palmitate and retinyl linoleate. These retinoid esters are not effective because they do not penetrate well into the skin. Instead, choose products with retinol. There are many anti-aging retinol products on the market- and the best retinoid for antiaging depends upon your Baumann Skin Type. This is because there are many different formulations and strengths of retinoids. Packaging really matters when it comes to retinol antiaging products. Only choose antiaging retinol products in an airless pump or an aluminum tube and remember to always screw the lid back on to avoid retinol losing its potency.
Antiaging skin care is important for aging skin. To make sure you are using the best antiaging skin care products, know your Baumann Skin Type and follow the dermatologist-recommended customized skincare routine for your skin type.
1 Nole, G., & Johnson, A. W. (2004). An analysis of cumulative lifetime solar ultraviolet radiation exposure and the benefits of daily sun protection. Dermatologic therapy, 17, 57-62.
© 2006 - 2022 Skin Type Solutions