Baumann Skin Type 7: OSPW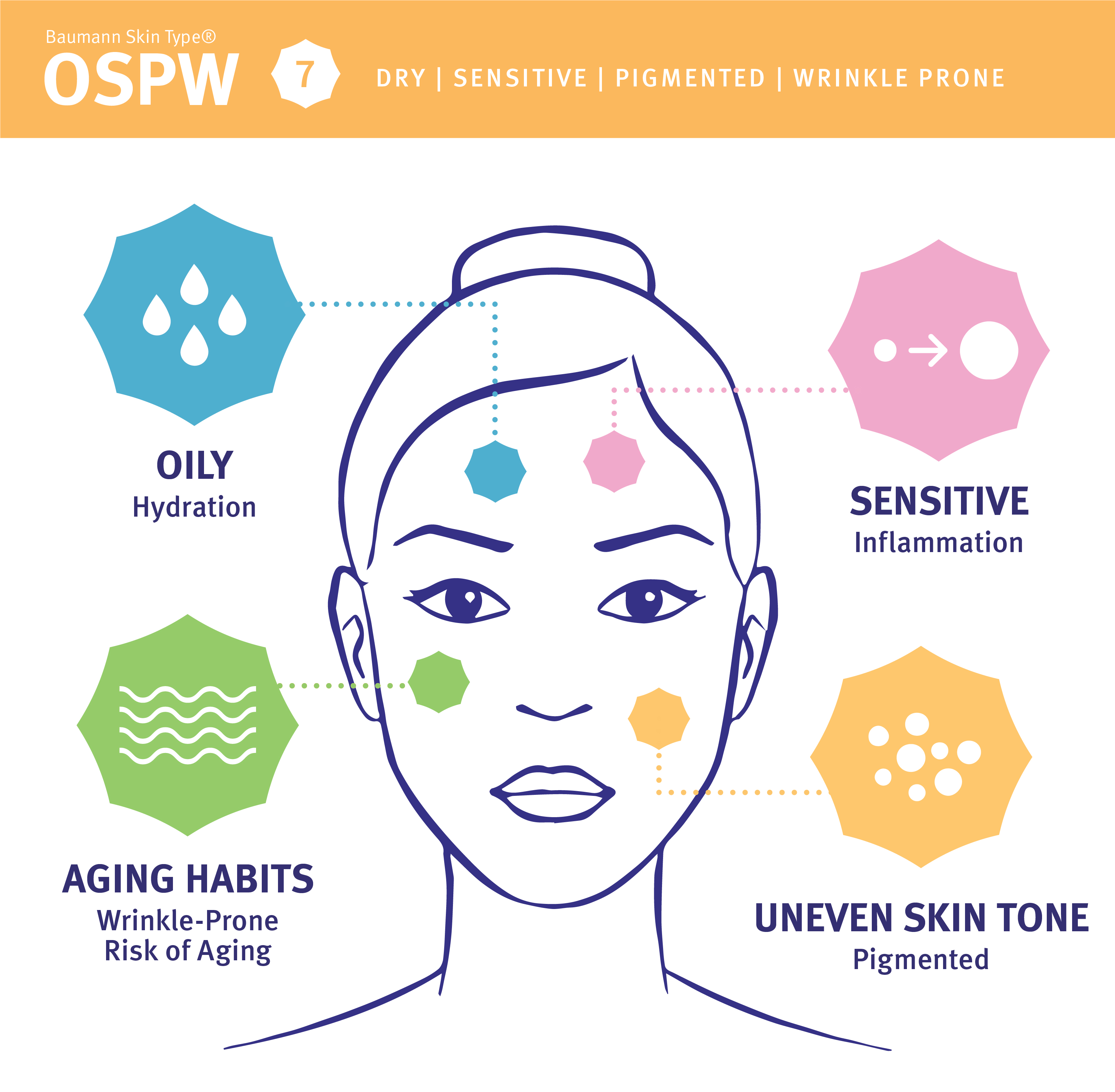 The OSPW Skin Type is Oily, Sensitive, Pigmented, and Wrinkled, with three barriers to skin health: inflammation, pigmentation, and aging. Together, inflammation and pigmentation problems can be a challenge for OSPWs, often leading to acne, melasma, rosacea, or post-inflammatory hyperpigmentation. However, by using the proper skincare regimen and treatment options for your skin, you can achieve a clear, healthy complexion!
What Are the Benefits of Having the OSPW Skin Type?
OSPW types do not have to worry about dryness or dehydration, as your skin produces adequate sebum (oil) to maintain a healthy skin barrier that is able to retain moisture and keep irritants out. Because of this, OSPWs can usually skip using a moisturizer in the morning, using only a daily sunscreen.
What Are the Cons of Having the OSPW Skin Type?
With three barriers to skin health, OSPWs tend to struggle with inflammation and redness, uneven skin tone, wrinkles, and conditions such as acne, rosacea, melasma or post-inflammatory pigment alteration (PIPA).
Inflammation and pigmentation problems go hand-in-hand. Inflammation that causes acne, for example, can lead to dark spots where acne lesions healed. Your skin is also prone to signs of accelerated aging due to sun exposure and photoaging.
The specifics of your skincare regimen will depend on which skin conditions are a concern for you. OSPWs tend to fit into one of five phenotypes, and the best treatment advice will vary for each:
A younger person with acne who has increased sun exposure

An adult with acne and photoaging

An adult with facial redness and melasma

An adult with acne, resulting in PIPA

An adult with rosacea and photoaging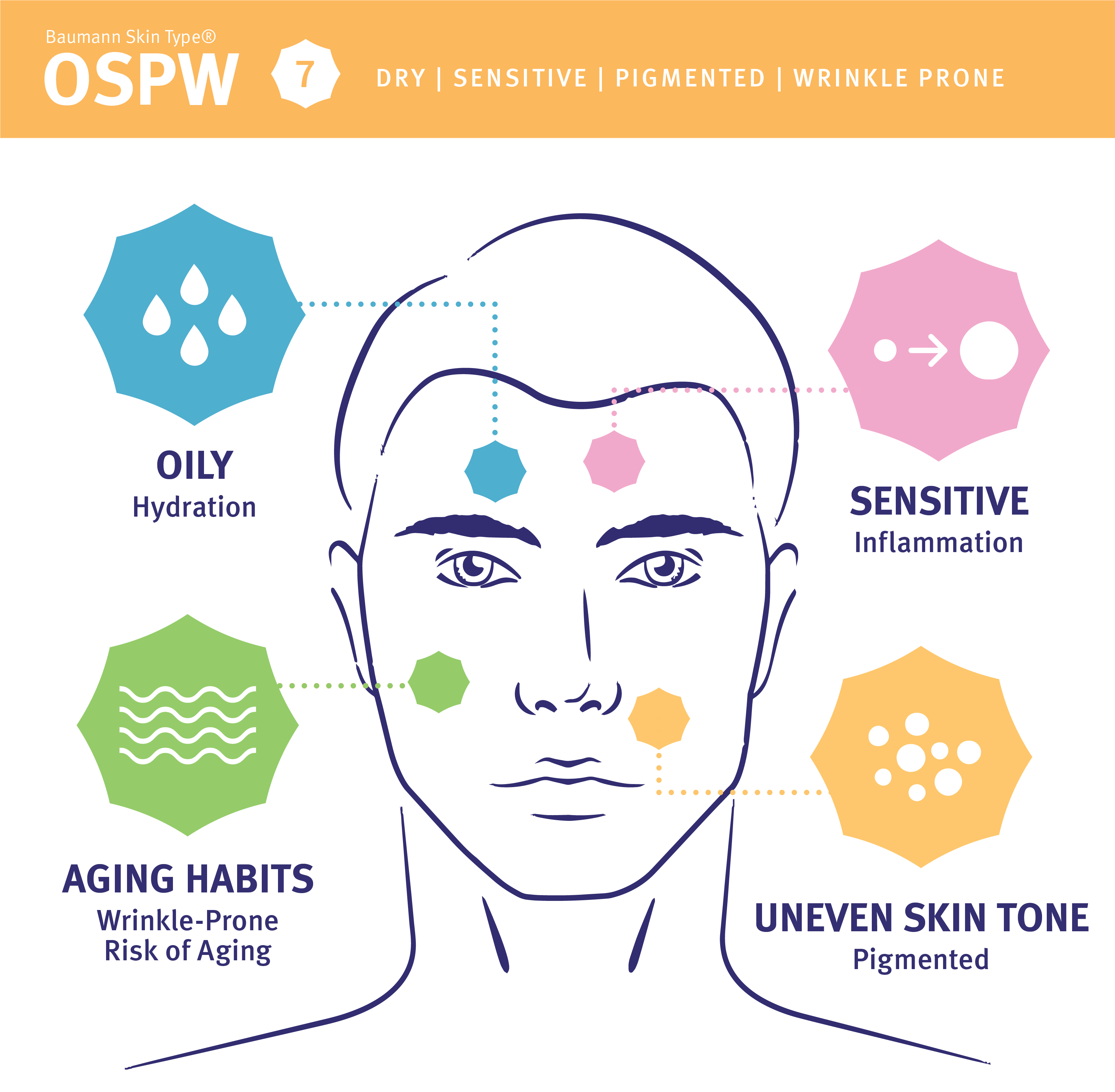 What Are the Best Skincare Ingredients for OSPW Skin?
The best skincare ingredients for OSPW skin will calm inflammation, brighten dark spots, smooth lines and wrinkles, and prevent future sun damage. Look for ingredients like:

Ascorbic acid

Azelaic acid

Benzoyl peroxide

Coenzyme Q

10

(Ubiquinone)

Defensins

Feverfew

Green tea

Heparan sulfate

Hexylresorcinol

Hyaluronic acid

Licorice extract

Methyl dihydroxybenzoate

Niacinamide

Phloretin

Retinol

Salicylic acid

Silver

Tetrahexyldecyl ascorbate

Tranexamic acid
What Are the Worst Skincare Ingredients for OSPW Skin?
OSPW skin types should avoid skincare ingredients that can cause irritation and inflammation or clog pores. Ingredients to avoid include:
Bergamot oil

Coconut oil

Isopropyl myristate
What Types of Products Should OSPW Skin Types Use?
Foaming cleansers or those with salicylic acid are good choices for oily skin types like OSPW. Retinoids are an excellent treatment option for this type, as these ingredients can treat many of the skin problems that OSPWs struggle with, including acne, pigmentation, and wrinkles. Retinoids should be started slowly and gradually in OSPWs with rosacea, as they can otherwise cause redness and irritation.
All Baumann Skin Types, including OSPW, should use a daily sunscreen of SPF15 or higher or SPF30 or higher when outside.
What Types of Products Should OSPW Skin Types Avoid?
OSPW skin types should generally avoid products that contain comedogenic ingredients that can clog pores, as well as ingredients that can trigger inflammation and redness. Choose light moisturizers rather than heavy ones if your skin is very oily.
What Cosmetic Procedures Are Good for OSPW Skin Types?
Salicylic acid peels, facial extractions, and HydraFacials are good options for OSPW skin, especially those with acne. Avoid blue light therapy, as this can make pigmentation issues worse.
OSPWs with rosacea may benefit from red light or laser treatments to treat visible blood vessels and redness.
OSPWs concerned about wrinkles and other signs of aging may benefit from neuromodulator injections such as BOTOX or Dysport, as well as dermal fillers and skin-tightening treatments. Microneedling should be used with caution or avoided, especially in Fitzpatrick Skin Types III or higher, as this may result in post-inflammatory hyperpigmentation.
Oily, Sensitive, Pigmented and Winkled Skin Type
Inflammatory skin conditions like acne and rosacea, combined with uneven skin tone and wrinkles, are the primary skin concerns that OSPWs struggle with. However, a skincare regimen that consists of the proper treatment ingredients and in-office treatments can successfully address these concerns, helping you achieve the healthy, clear complexion you are looking for.
© 2006 - 2022 Skin Type Solutions