What Soap Should I Use If I Have Psoriasis?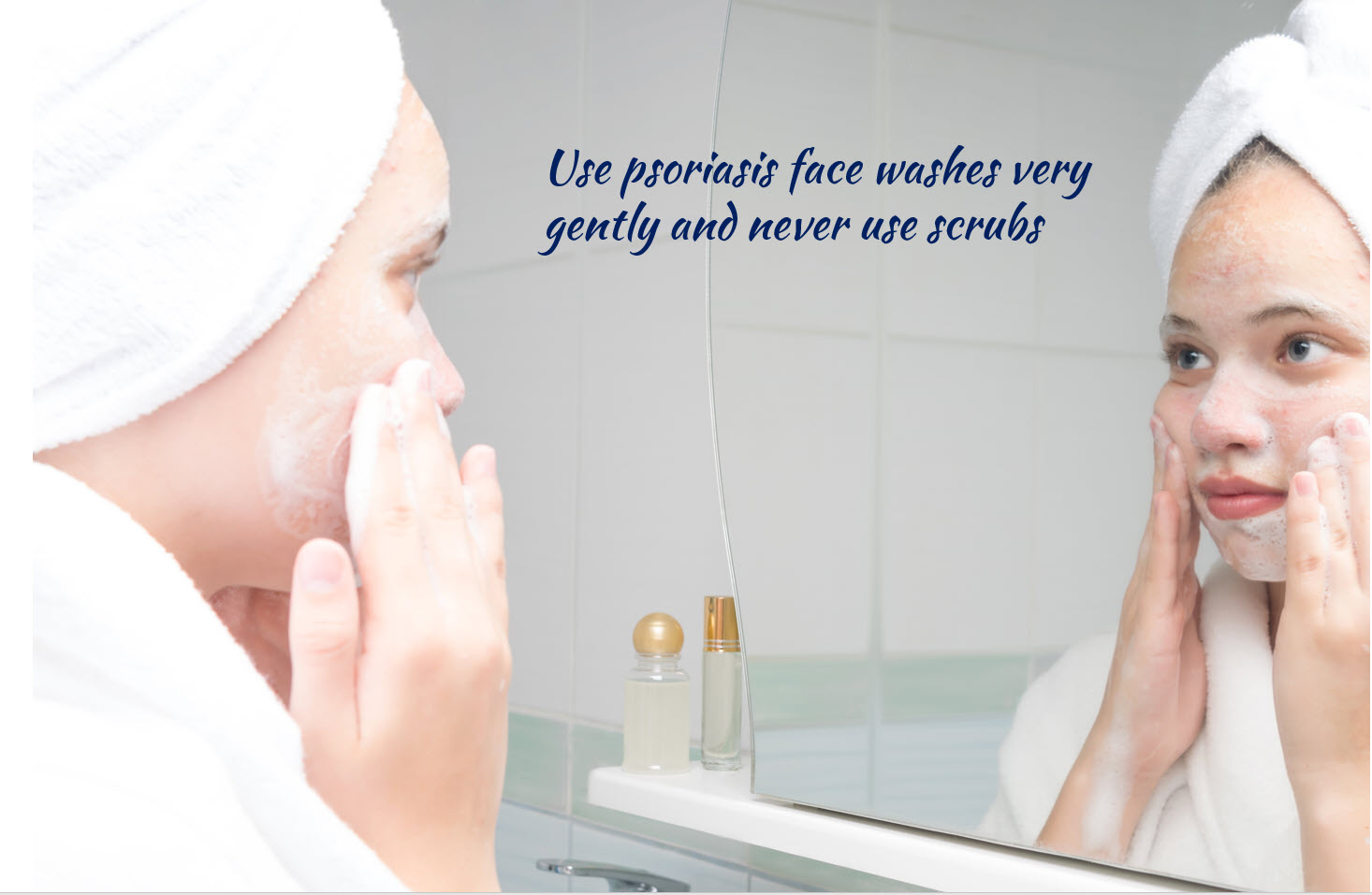 What Soap Should I Use If I Have Psoriasis?
Psoriasis is a skin condition that causes the skin to build up dry, red patches, which sometimes have white or silvery scales. Read more about the causes of psoriasis here.
Psoriasis is a chronic condition that has no cure and can be fairly difficult to manage - especially when it comes to finding the right skin care routine. Keeping the skin clean and hydrated can be particularly tricky, but here we share our tips on the best cleansers for psoriasis.
What Is the Best Soap for Psoriasis?
First things first: you should avoid using soap for psoriasis at all costs. Soap strips the natural oils from the skin, so it is much better to use a creamy cleanser, like Zerafite Creamy Cleanser.
Zerafite Creamy Cleanser is the best psoriasis face wash because it is a moisturizing cleanser that deposits lipids on the skin to soothe and hydrate the plaques and scales that psoriasis causes. It contains multi-lamellar emulsion (MLE) technology and a ceramide complex to protect the skin barrier and prevent moisture loss.
An alternative psoriasis face wash to try is CeraVe Cleanser for psoriasis, which is a light, non-irritating cleanser that can be found in any drugstore, like Walgreens. However, unlike Zerafite Creamy Cleanser, it isn't creamy enough, which means it doesn't deposit enough lipids on the skin to keep the skin hydrated.
What Is the Best Cleanser for the Face If I Have Psoriasis?
As we mentioned, Zerafite Creamy Cleanser is the best face wash for psoriasis available in our opinion, ideal for hydration and to protect the skin barrier.
However, there are some other good facial cleansers for psoriasis available, which we will explore here.
First up is Medature Plantract Cleansing Gel, the best face wash for psoriasis if you have combination skin. This face wash for sensitive combination skin gently lifts away impurities from the skin, including makeup and pollutants, to leave the skin feeling calmly hydrated. This face wash contains four anti-inflammatory ingredients - portulaca, aloe, camellia extracts and allantoin - to break the cycle of inflammation that psoriasis causes. This psoriasis cleanser is also gentle enough for the delicate eye area, so an effective eyelash cleanser if your psoriasis causes irritation here.
If the scales that psoriasis causes are your main concern, then SkinCeuticals LHA Cleansing Gel may be the best face wash for psoriasis. This gentle hydroxy acid cleanser will help to dissolve the rough scales, leaving the skin smooth and bright.
Capryloyl salicylic acid, glycolic acid and salicylic acid combine to gently exfoliate the skin while providing an anti-inflammatory effect. Capryloyl salicylic acid is a popular skincare ingredient for dry skin as it reduces the appearance of skin flaking and dry patches.
For a more soothing effect for your psoriasis, try SENTÉ Daily Soothing Cleanser, packed with skin-soothing chamomile, an anti-inflammatory that reduces redness and relieves skin irritation. It's perfect for even the most sensitive skin types and will protect the skin barrier.
If your skin is sensitive and allergy-prone, then an alternative is VMV Hypoallergenics Red Better Deeply Soothing Cleansing Cream, which does not contain 109 of the most common allergens. This hypoallergenic, soothing cleanser contains monolaurin, virgin coconut oil and glycerin to soothe and calm inflammation, while the antioxidants green tea and rice phytic acid repair and protect.
For fresh skin, PCA Skin Creamy Cleanser gently cleanses and hydrates without stripping the skin of essential moisture, so is perfect for the dry skin so often seen in psoriasis.
Sunflower Seed Oil, which is high in omega-6 essential fatty acid and a great source of vitamin E, soothes inflammation and irritation while helping the skin to retain moisture. Glycerin moisturizes and protects, and caprylic/capric triglyceride supports the skin barrier to reduce dryness and prevent moisture loss.
If you prefer to use a cleansing oil, then PCA Skin Cleansing Oil is a hydrating oil that is suitable for psoriasis. This cleansing oil comprises grape seed oil, which contains essential fatty acids to hydrate the skin; almond oil, a moisturizing ingredient to calm irritation and retain moisture; and glycine soja oil, an anti-inflammatory rich in vitamin E. It effectively dissolves dirt, which also makes it an effective makeup remover.
We recommend double cleansing when using a cleansing oil, following with micellar water to ensure no traces are left on the skin.
How to Wash the Face If I Have Psoriasis
It is best to use a creamy psoriasis cleanser for your psoriasis, rinsing with warm water and then gently patting dry with a clean towel. Do not rub the skin dry, and avoid scrubs and other friction as this will make your psoriasis worse.
Once you've used your psoriasis face wash, gently apply your psoriasis cream as part of your daily skincare routine.
Should I Use a Face Brush If I Have Psoriasis?
You should never, ever use a face brush if you have psoriasis. A 19th-century dermatologist called Heinrich Koebner discovered a phenomenon (now known as the Koebner Phenomenon) in which the inflammation of psoriasis can appear on parts of the body that are not commonly associated with psoriasis as a result of injury or trauma.
By exfoliating the skin with scrubs or a face brush, you can actually worsen your psoriasis and make it even harder to treat - and can even lead to psoriatic arthritis. Therefore, scrubs, face brushes and loofahs should be avoided at all costs in psoriasis.
What Is the Best Psoriasis Cleanser for the Body?
As with the face, a careful approach to the skincare routine for your body is required if you have psoriasis, and a creamy cleanser is the best option to choose.
Zerafite Creamy Cleanser is suitable for use on both the face and body. This moisturizing cleanser will soothe and hydrate the skin while protecting the skin barrier. It is perfect for dry skin types and psoriasis.
Alternatively, La Roche Posay Lipikar Syndet AP+ is a fantastic psoriasis cleanser for the body that soothes the itchiness that psoriasis can cause, as well as restoring the skin barrier and microbiome. It is enriched with shea butter, which is high in fatty acids, to soften the skin, reduce inflammation and heal the lesions that psoriasis causes, while glycerin further moisturizes and protects the skin.
How to Wash the Body If I Have Psoriasis
Similar to the face, you should cleanse your body using a liquid creamy psoriasis cleanser in the shower, and rinse with warm water. Pat - don't rub - the skin dry and apply your usual psoriasis cream to damp skin after using your psoriasis body wash. Do not use a loofah or any other kind of cleansing brush.
In Summary
Keeping your skin clean and hydrated when you have psoriasis needn't be tricky, but selecting the right cleanser for your psoriasis and skin type is essential. Follow cleansing with your usual psoriasis cream and a personalized skincare routine.
Take our Skin Type Quiz to learn more about your skin type to get the best skincare routine for your face.
© 2006 - 2022 Skin Type Solutions