How to Get Clear Skin Fast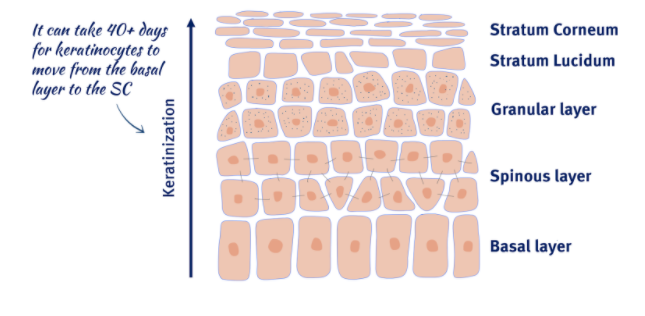 Many patients come in asking us how to get clear skin overnight or how to get clear skin fast at home. Whether we are asked "How to get clear skin in 2 days?" or "How to get clear skin in 3 days?" or "How to get clear skin in a week?" the answer is always the same. It depends upon your Baumann Skin Type®. If you are using the best skin care products to clear skin fast and you are compliant, you will get the fastest results.
The good news is, if your only skin problem is dull skin, you can get glowing skin fast by using an exfoliant. If you have dehydrated skin, it can take at least 3 days to get hydrated, glowing beautiful skin if you use the correct moisturizer.
How to Clear Acne Overnight
We can guide you on how to pop a pimple or how to cover pimples with makeup but getting clear skin fast requires a personalized skincare routine for your Baumann Skin Type. The bad news is, if you have acne, it will take at least 8 weeks to get clear skin. You cannot get clear skin fast if you have acne because pimples take about 8 weeks to form. Getting on a personalized skin care routine to treat acne is a better approach than waiting until you get pimples to care for your skin. Learn more about how to clear acne fast here.
How to Remove Dark Spots on the Face Overnight
It is impossible to remove dark spots on the face overnight. Even the best melasma cream can take 12- 16 weeks to remove dark spots. Keep reading to learn why this is. To find a skin care routine to remove your dark spots, use a personalized skin care routine to even skin tone. You can also talk to a medical provider about laser treatments, IPL and chemical peels that can help remove dark spots fast if you have a lighter skin tone.
How to Get Rid of Wrinkles Fast
There are 3 main types of wrinkles: textural lines causes by dehydration, fine lines, and deep lines. Each of these needs different treatments. The best way to get rid of these wrinkles fast depends upon the type of wrinkle it is. You can learn more information about how to treat different types of wrinkles here. No matter what wrinkle treatment you choose, you must be on the best skin care routine to prevent and treat aging skin. Retinoids, antioxidants, ascorbic acid, defensins and other antiaging ingredients should be used consistently, however you need to know your Baumann Skin Type to know which antiaging ingredients are best for your aging skin type.
Skin Care Products That Work Fast
Have you been approached at a shopping center by an enthusiastic salesperson who wants to show you how fast the skin care products can change the skin's appearance? They rub something on your skin and you can see a difference instantly. This is a common sales method that gets you to splurge on skin care, but do these products really make a difference long term? These products seem to give you glowing skin fast- but what are they really doing?
The epidermis is responsible for the reflection of light and the texture of the skin. A smooth healthy epidermis gives skin radiance. For the skin to glow with radiance, the epidermal cells at the surface must desquamate properly. The sales trick described above uses an exfoliator to smooth the skin's surface giving it an instant glow as light is reflected off the skin. Skin feels and looks great immediately when it is exfoliated. However, this is a temporary change that will only last a day. To have healthy glowing skin every day, you need skincare ingredients that target the dermis of the skin and repair any barriers to skin health that you have. To get glowing healthy skin you need a customized skin care regimen for your Baumann Skin Type® and you must use the skin care routine consistently.
Why Do Skin Care Products Take so Long to Work?
To have healthy skin, you must to change the quality of the skin cells at the surface of the skin. This means that you need to stimulate the skin stem cells at the basal layer of the skin to make new healthier skin cells to repopulate the entire epidermis and to increase the thickness of the dermis. It can take 40 or more days to replace the entire epidermis with new cells. This is why it takes 40 days or more for skin care products to make a significant change in skin health.
Acne products take at least 8 weeks to work. Antiaging products can take 6 months to change the health of the skin. The best way to understand this is to think about skin care products to even the skin tone and lighten dark spots on the skin. You can visualize "old skin cells" as the ones with the pigment granules in them and "young skin cells" as the ones without the pigment granules. Tracking the movement of the pigmented cells from the bottom basal layer to the top SC layer takes at least 40 days. To learn more click here.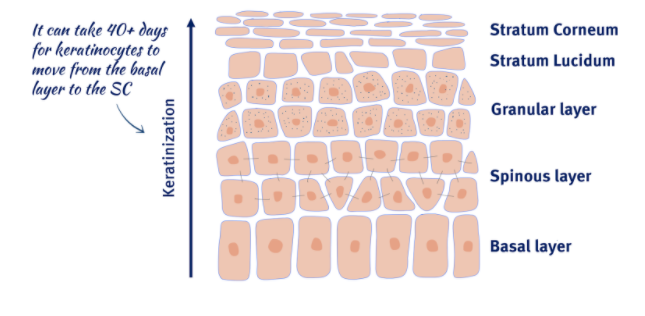 Skin care products to even skin tone can take 12- 16 weeks or more to lighten skin because the entire epidermis must be replaced with new cells that do not contain excess pigment. It can take over 40 days for the pigmented skin cells to desquamate and be replaced by unpigmented keratinocytes. See the diagram below that illustrates the movement of the pigmented cells to the top layers of the skin. When skin-lightening products are used, the new cells that are formed have less or no pigment. Whether you are treating acne, skin pigmentation or wrinkles, you must wait a few weeks for the new cells to form before you will see a change in the skin's health and appearance.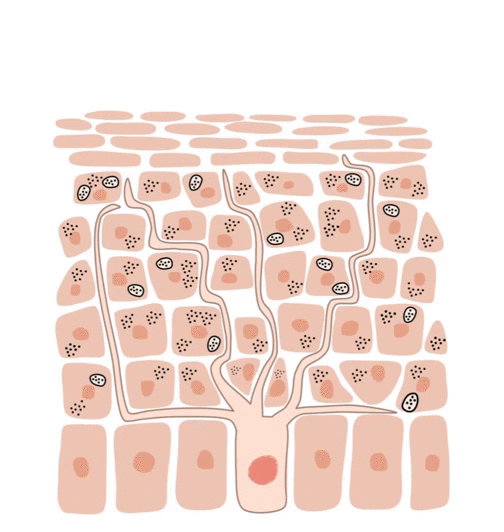 Picture Legend: The large octopus-shaped cell is a melanocyte that makes pigment (The black dots seen inside the square/ rectangular shaped skin cells represent melanin packaged inside melanosomes). If the melanocyte is not making skin pigment, then the skin lightens and the pigmented skin cells desquamate off of the skin's surface.
To make skin care products work faster, you can combine exfoliation with skin lightening products, anti-aging products, and anti-acne products. However, using too much exfoliation can lead to inflammation and pigmentation. This is why you must use a skin care routine that is customized for your skin type. Otherwise, you may be wasting time, money and hurting your skin.
How Long Does it Take to Renew Skin?
Renewing skin involves replacing the epidermis with all new cells. The first step to renewing skin is using the best renew skin care products but you must make sure the products are the best ones for your Baumann Skin Type®. Renew skin products can be combined with renew skin therapy by your doctor or medical aesthetician such as chemical peels or microdermabrasion. Regardless of whether you use only renew skin products or combine them with renewing skin treatments, it will take at least 40 days to completely renew the skin.
How Long Does it Take to Reduce Wrinkles on the Face?
Small fine lines on the skin due to dehydration can improve in a few days with a barrier repair moisturizer and the right cleanser for your dry skin type. However, deeper wrinkles and crepey skin due to loss of collagen take about 6- 12 months to see improvement when ascorbic acid and retinoids are used. This is because it takes months for enough collagen to build up to thicken the dermis. Renewing skin is a process that requires the right skin care routine for your skin type and good compliance with the daily skin care routine.
The first step to clearing skin fast is to find out your skin type and get a personalized skin care routine to target any barriers to skin health that are keeping your skin from being clear, healthy, renewed, radiant and glowing.
© 2006 - 2022 Skin Type Solutions