Baumann Skin Type 13: DRPT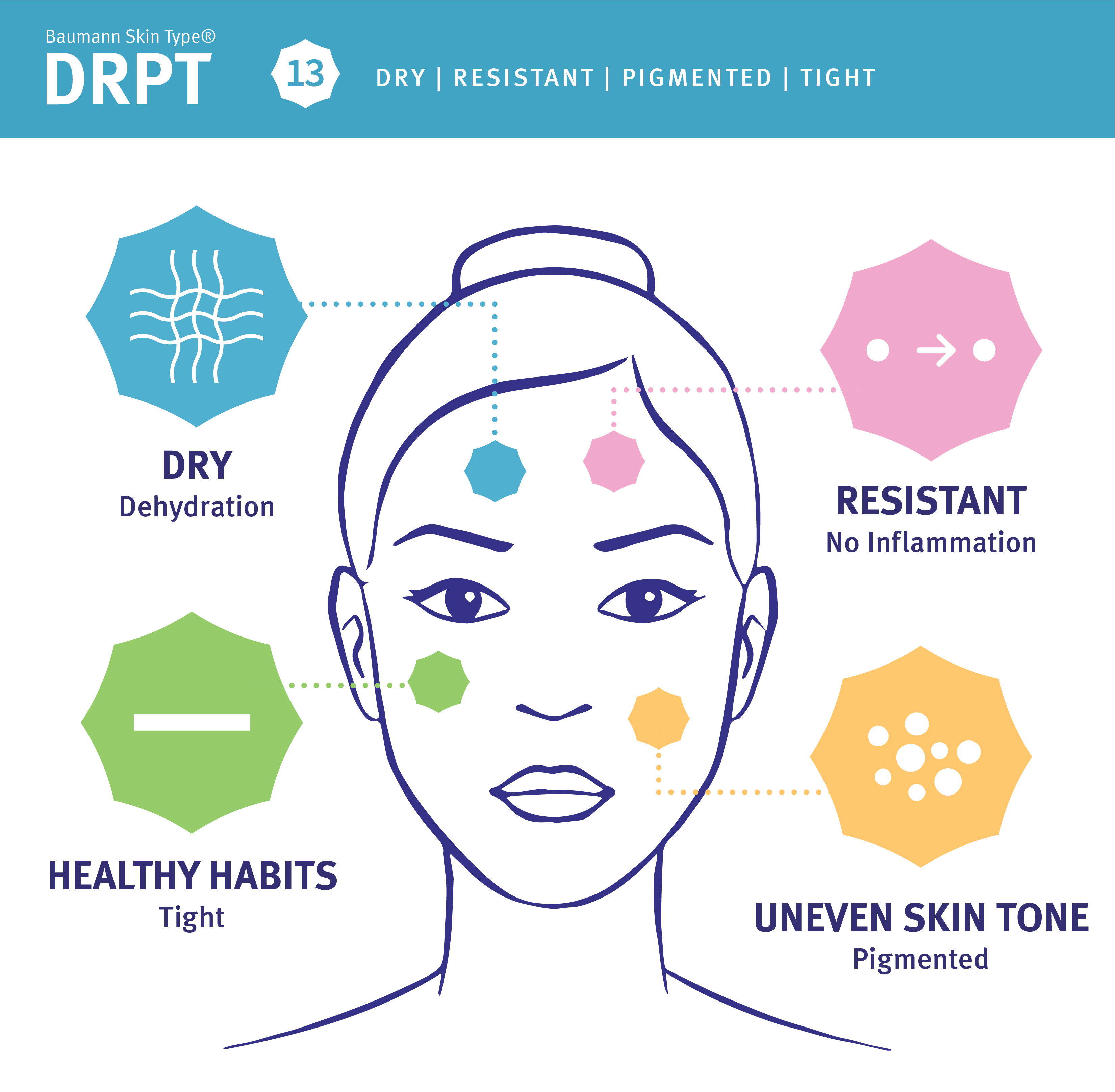 The DRPT Skin Type is Dry, Resistant, Pigmented, and Tight, with two barriers to skin health: dehydration and pigmentation. This skin type is uncommon and is usually seen in those with Fitzpatrick Skin Type III or higher.
The two main concerns, dryness and pigmentation, tend to go hand-in-hand, as itching caused by dryness can result in hyperpigmentation. Therefore, getting dehydration under control is the main goal of the DRPT skincare regimen.
What Are the Benefits of Having the DRPT Skin Type?
The good news is that inflammation and signs of aging such as lines and wrinkles are not generally a problem for DRPT types. Though your skin is dry, stinging, burning, and other symptoms commonly associated with underlying inflammation are not usually concerns for you. DRPT skin types also tend to be under the age of 30 with a smooth, wrinkle-free complexion.
What Are the Cons of Having the DRPT Skin Type?
Dry, dehydrated skin has trouble holding onto moisture and keeping irritants and allergens sealed out. Dryness often causes itching and flaking, and some DRPTs may experience eczema, a skin condition characterized by itchy, rough, irritated skin.
Pigmentation problems such as uneven skin tone and the darkening of areas of the skin affected by dryness and eczema are also very common in this skin type. Some DRPTs may experience melasma due to oral contraceptive use or pregnancy.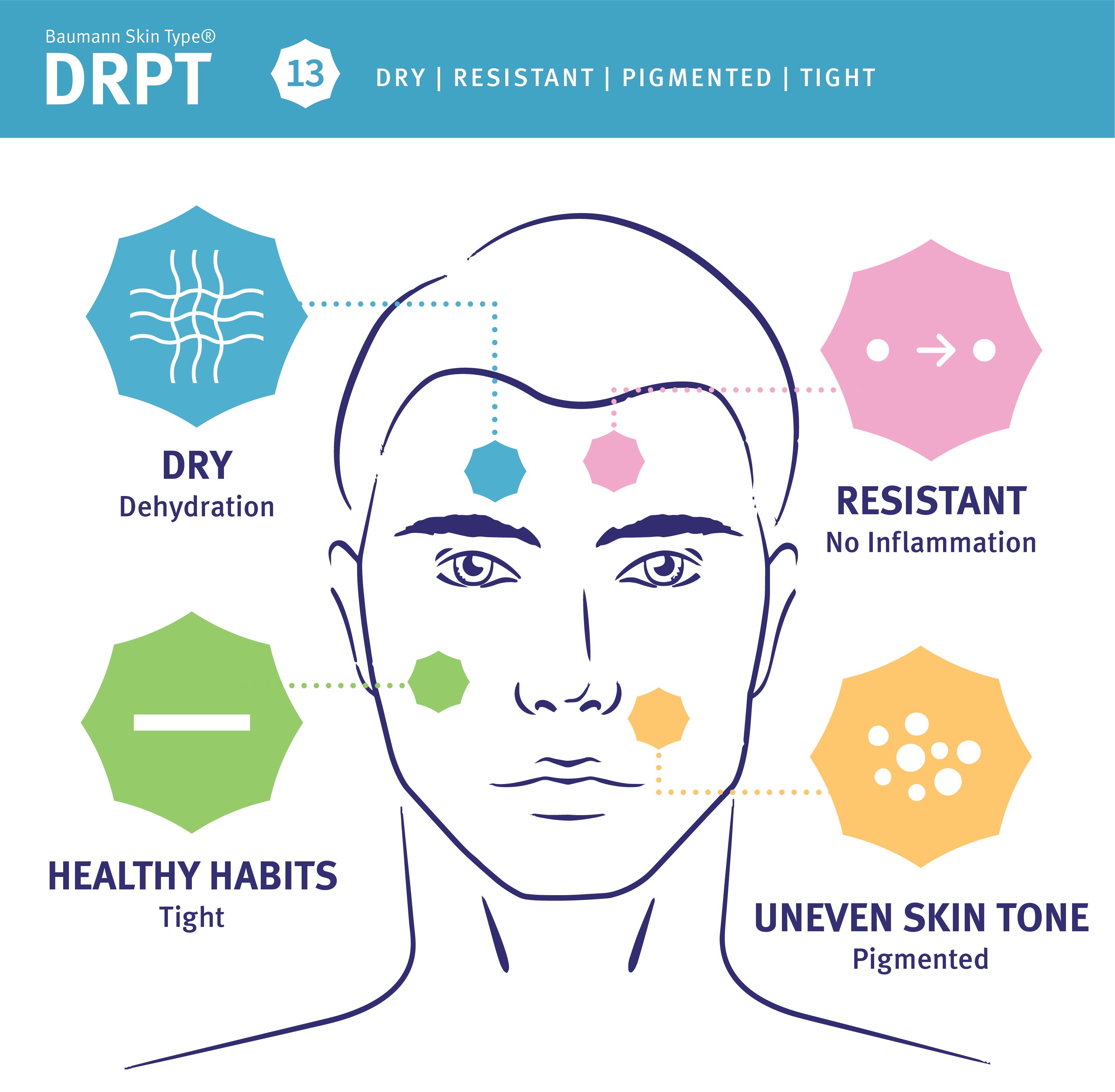 What Are the Best Skincare Ingredients for DRPT Skin?
The best skincare ingredients for DRPT skin types help to restore the function of the skin's protective barrier, as well as lighten areas of uneven skin tone and provide soothing benefits to dry, itchy skin. Look for ingredients like:

Ascorbic acid

Borage seed oil

Ceramide

Cholesterol

Defensin

Dexpanthenol (pro-vitamin B

5

)

Dimethicone

Evening primrose oil

Glycerin

Hexylresorcinol

Hydroquinone

Hydroxy acids

Jojoba oil

Kojic acid

Linoleic acid

Myristoyl/Palmitoyl oxostearamide/arachamide mea

Niacinamide

Retinol

Safflower oil

Shea butter

Stearic acid

Tranexamic Acid
What Are the Worst Skincare Ingredients for DRPT Skin?
Dry skin types like DRPT should avoid skincare ingredients that are known to worsen dryness and cause irritation. Because pigmentation is a concern, DPRTs should also avoid topical estrogens and other ingredients that can make dark spots worse. Other skincare ingredients to avoid include:

Alcohol listed among first seven ingredients

Anionic surfactants

Bergamot oil

Hard water (increased calcium)

Topical estrogens
What Types of Products Should DRPT Skin Types Use?
DRPTs should use non-foaming cleansers that will not strip away oil from the skin. Instead, choose a creamy, hydrating cleanser that can help to impart vital oils that dry skin types need. A barrier repair moisturizer should be used twice per day to restore the skin barrier's ability to retain moisture and prevent irritants from penetrating the skin.
Skin-lightening products can help to improve the appearance of dark spots and uneven skin tone. Daily sunscreen of at least SPF 15 or SPF 30 or higher when outdoors should be used.
What Types of Products Should DRPT Skin Types Avoid?
DRPTs and other dry skin types should not use foaming cleansers, toners that contain alcohol, or other products that can cause dryness and irritation.
What Cosmetic Procedures Are Good for DRPT Skin Types?
Chemical peels, microdermabrasion, dermaplaning, and HydraFacials can help DRPTs to even out their skin tone.
This skin type should avoid blue light treatments, as these can increase pigmentation. DRPTs with melasma should also avoid IPL and laser treatments, which are known to make melasma worse.
Dry, Resistant, Pigmented and Tight Skin Type
DRPT skin types are rare, though can be fairly easy to manage with the use of the proper skin-lightening ingredients, barrier repair moisturizer, and healthy lifestyle habits. If you have DRPT skin and have melasma, talk to your dermatologist or healthcare provider about the best treatment options.
© 2006 - 2022 Skin Type Solutions