Why A Custom Skin Care Regimen?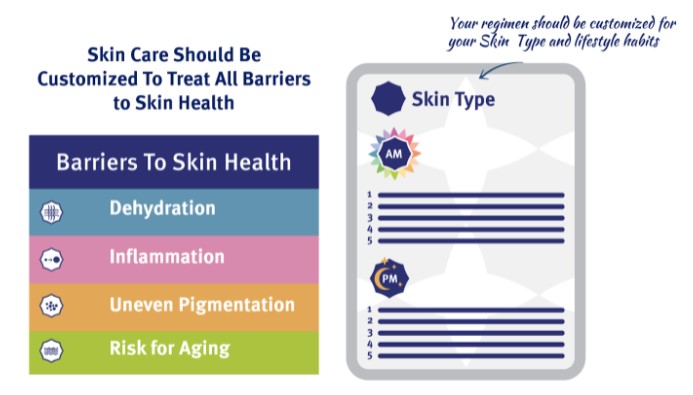 Is Personalized Skin Care Worth It?
There are many skin care routine builder websites that offer a skin type quiz and a custom skin care regimen. How do you know if these sites have any science behind them? These skin care routine builder sites often suggest expensive customized skin care regimens and they are often only recommending their own brand. How do you know if the skin care products are worth the price? There are several things to consider when deciding if a custom skin care regimen is worth the money and time.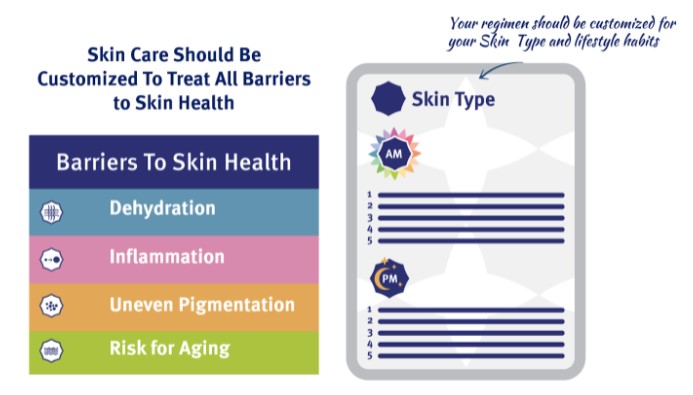 What Does Custom Skin Care Mean?
Customization of skin care is becoming a trendy skincare term, but what does customized skincare mean? I am certain you would love customized skin care products created specifically for you. In fact, we all would- but does this really exist? Of course, visiting your dermatologist and getting a prescribed skin care routine is the best customized skin care routine because dermatologists are experts on skin science. Your doctor will give you the exact product names and steps that will be best to treat your skin's issues. But if you do not have a chance to go to a dermatologist or an STS-approved doctor, you may choose to buy a customized skincare regimen online. This will guide you on how to know if a customized skin care regimen is worth it.
"
Custom Skin Care
" can mean several different things:
Custom Skin Care Products

Custom skin care products are defined as skin care products that have been formulated individually for your skin type. The ingredients in the customized skin care products are chosen based on your skin type. Individual skin care products that are truly customized and formulated just for your skin type are very uncommon due to formulation & manufacturing costs and logistics. You see, it costs a lot to put the ingredients in the manufacturing vats, stir them and properly transfer the formulation into bottles and jars. Making custom skin care products this way on an individual basis would be cost-prohibitive.
How Skin Care Products are Usually Made
Skin care products are made in a manufacturing facility with pre-printed packaging that moves down the assembly line. The labeled jars and bottles are automatically filled from a huge vat containing the skin care formula. In some cases, the labels are placed after filling. The beautiful silk-screened labels are usually put on before filling, while stick on labels are usually applied after filling.
Can Skin Care Products be Individually Made to Order?
Many companies claim to offer custom skincare products but will actually use standard formulations for everyone and put them in a custom bottle or jar. The actual formulations are not unique to you. These products usually have stick-on labels that can be applied after filing the bottled and jars. If a skin care product's formula is made unique to you, it is usually done in a tiny lab or is hand stirred and filled in someone's bathroom. These labs do not have the same scrutiny and oversight that larger manufacturing plants have, so there have been quality control, stability and sterility issues. For this reason, we are not fans of skin care products made in an unregulated facility or someone's bathroom. Especially if the products are organic and do not have preservatives in them to kill any bacteria or fungi that love to grow in skin care products.
The term 'custom skin products' can also mean products that have been chosen based on your skin type. For a product to be considered as custom skin care, the product should be chosen to have ingredients that are right for your skin type and not have ingredients that are wrong for your skin type. These custom skin care products should be combined with other products that increase the efficacy of the entire custom skin care regimen.
What is the Best Custom Skin Care Product Brand?
There isn't a single best custom skin care product brand. You see, each brand has a core technology that is their hero product. For example, Skinceuticals is well known for its superior Vitamin C technology, while Elta MD is known for its sunscreens. We believe in choosing the best skin care products from various brands and putting them together into custom skin care regimens.
Custom Skin Care Regimens
Custom skin care regimens consist of a selection of skin care products that have been selected for your skin type. The best custom skincare regimens combine the best products from several brands with skincare routine steps customized for your skin's needs. The custom skin care regimen should be safe and customized according to:
Skin type

Lifestyle habits

Fitzpatrick skin type (skin color)

Budget

Gender

Your Brand preferences

Preferences for natural products or organic skin care products
Unfortunately, many online skincare routine builder sites customize your skincare regimen based upon your shopping history and demographic data and not on any of the above. This results in a waste of your time and money. Before you decide to spend money on custom skin care, there are questions you should ask yourself.
What to Ask Before You Splurge on Custom Skincare:
Is the skin type test used for the skin care regimen builder scientifically validated?

If the skin type is not properly diagnosed, then skin care routine recommendations will be incorrect. It is important to make sure that any skin type quiz that gives skincare advice is

validated

. Scientific validation is a long process that ensures that the questions measure what they are intended to measure and correlate with real-life findings. For example, if the skin type test says your skin is dry, measurements of the amount of water in your skin should show less water than normal. Click here to learn more about

how skin type quizzes are validated

.
Are the skin types used to define the skin issues accurate?

Most skin typing systems use the following definitions:

dry skin

,

oily skin

,

combination skin

,

normal skin

,

mature skin

,

aging skin

,

hypersensitive skin

,

sensitive skin

,

dull skin

,

acne-prone skin

, or

rosacea-prone skin

. You may also be typed as someone who has

eczema

or psoriasis. However, each of these is not mutually exclusive. For example, you may have dry skin, be eczema-prone and have acne, and your custom skin care regimen should be very different than someone with acne who does not have dry skin and is not eczema-prone. Skin typing systems that only categorize your skin by one parameter are not sufficient. This is why we use the 16 Baumann Skin Types to classify skin types and recommend a custom skin care regimen.
Is the skin type quiz recommending only one skin care brand?

No single brand has all the best skin care products. Therefore, if your custom skin care routine includes only products from one brand, then you are not getting all the best skincare technologies. Each brand has a hero product based on the technology they are known for. You should choose the best products from each brand and combine them in the best skin care routine order, customized for your skin type and lifestyle habits, to ensure maximize efficacy.
Has the entire custom skin care regimen been tested specifically on your Baumann Skin Type®?

To explain this concept- Let's say that you have oily skin. The custom skincare routine recommended to you will tend to be stronger and harsher with the thought that you have a protective sebum layer on the skin that keeps ingredients from penetrating. Stronger detergents will be in the cleansers, while higher potency retinoids and other ingredients will be in the skincare regimen. However- what if you have oily sensitive skin- such as oily skin with rosacea. These products will be too harsh for your skin and will cause inflammation, which can lead to pigmentation and aging. A custom skincare routine should be designed to address ALL of your barriers to skin health- not just one!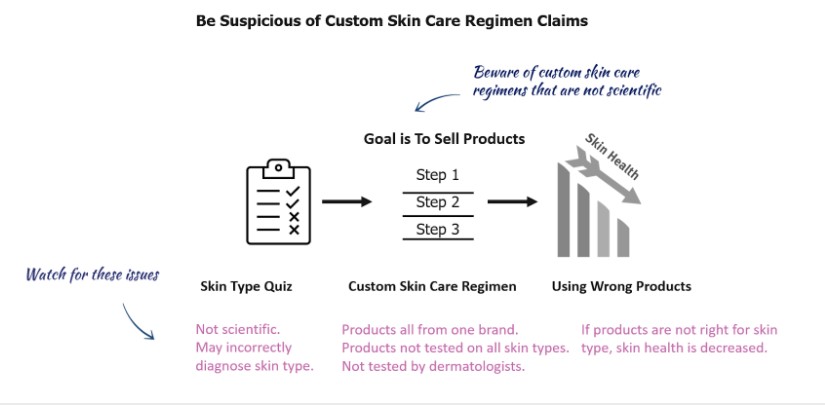 Why Go With a Customized Skin Care Regimen?
A customized skin care regimen that is based on an accurate diagnosis of skin type is targeted to treat anything adversely affecting your skin health, does not contain any harmful skin care ingredients, is designed to be in the correct skin care routine order, contains the best products from various brands, and is affordable is much more likely to give you healthy skin. However, there is one caveat: you must use the custom skin care regimen exactly as directed.
Why the order of steps in a custom skin care regimen is important:
The order of steps in the skin care routine can make or break the efficacy and how fast you see results. Omitting one of the recommended products, or not using the products as often as necessary, will affect how well the custom skin regimen works. We recommend using a dermatologist-developed custom skincare routine and committing to use it properly for at least 12 weeks.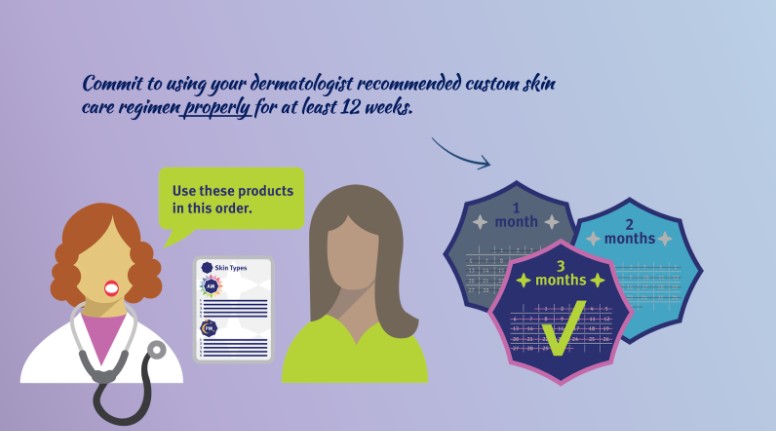 How Is Our Custom Skin Care Solution More Effective?
Our custom skin care regimens were created by board-certified dermatologist, researcher, and author Dr. Leslie Baumann MD. The Skin Type Solutions scientific skin care routine builder software is used by hundreds of dermatologists around the world and by over 150 medical practices in the USA to customize skin care. These are the reasons that we provide the best custom skincare regimen that is used by doctors:
Our 16 skin type skin typing system takes into account all of the skin issues that need to be addressed to have healthy skin. The skin typing system strives to give skin these 4 healthy attributes, rather than just focusing on one issue, such as aging. This is why there are so many different Baumann Skin Types (16 skin types with many subtypes) and over 40,000 different possible regimen templates. The system uses the scientifically based and tested templates as a basic skin care regimen structure. The best products from various brands are placed in the correct regimen order steps based upon your skin type, product ingredients, product attributes, brand, personal preferences, budget and lifestyle habits.

You have the option to choose which brands are in your skin care regimen. You can choose to change your regimen to products from many different brands and price points that have also been proven to work well for your skin type in the skin care regimen template. Whether you want to splurge or save on custom skincare, our system will generate a custom skin care regimen that you can feel confident is the best custom skin care regimen for your skin type.

We provide many levels of customization. We have already customized the 40,000 options of custom skin care regimens based on the needs of your skin type. The best of these will be chosen based on your skin's needs. However, you can further customize the skin care regimen yourself. If you prefer an organic custom skin care regimen or a natural custom skin care regimen, no problem! If you want an easy skin care routine with a few steps, no problem! You can choose the Essential Kit which is designed to get you on the path to skin health with the minimum number of skin care steps. If you want to use more products and get your skin improved as fast as possible, you can choose the Complete Kit option. If you want the best value and the highest discount on products- try the Subscription Kit which will give you a different set of products each month so you will eventually have all the products in the Complete Kit but at a lower price. It takes a bit longer to see results- but you save the most money.

We empower you to make your own skin care decisions by providing accurate and unbiased skin care product education. Our medical advice on skincare empowers you to make your own decisions within a framework that ensures that you will choose the right products for your Baumann Skin Type.
The Skin Type Solutions skin type quiz is scientifically validated! Years of research has led to our skin type quiz used to customize skin care regimens!1 Decades of research and testing is what differentiates STS from other skin type quizzes. Ours is used by dermatologists2 3 4 5 and cosmeceutical researchers.6 7 Click here to see how we validated our scientific skin type quiz which is used by dermatologists to diagnose skin type.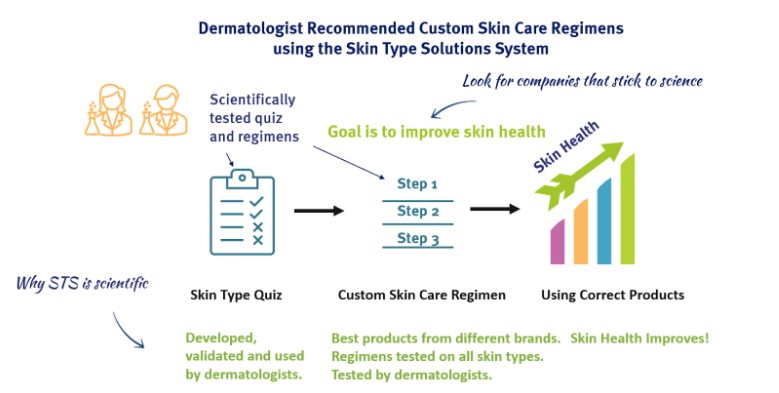 _____________________________________
1Baumann, Leslie. "Validation of a Questionnaire to Diagnose the Baumann Skin Type in All Ethnicities and in Various Geographic Locations" Journal of Cosmetics, Dermatological Sciences and Applications 6 (2016): 34-40.
2Baumann, L. (2008, 2012, 2019). Cosmetics and Skin Care in Dermatology. Fitzpatrick's Dermatology in General Medicine. 7t, 8th and 9th eds. New York: McGraw Hill.
3Choi, J. Y., Choi, Y. J., Nam, J. H., Jung, H. J., Lee, G. Y., & Kim, W. S. (2016). Identifying skin type using the Baumann skin type questionnaire in Korean women who visited a dermatologic clinic. Korean Journal of Dermatology, 54(6), 422-437.
4Lee, Young Bin, Sung Ku Ahn, Gun Young Ahn, Hana Bak, Seung Phil Hong, Eun Jung Go, Chang Ook Park et al. "Baumann Skin Type in the Korean Male Population." Annals of Dermatology 31, no. 6 (2019): 621-630.
5Ahn, S. K., Jun, M., Bak, H., Park, B. D., Hong, S. P., Lee, S. H., ... & Goo, J. W. (2017). Baumann skin type in the Korean female population. Annals of dermatology, 29(5), 586-596.
6Baumann, L. (2009). The Baumann skin-type indicator: a novel approach to understanding skin type. Handbook of Cosmetic Science and Technology, 3rd Edition, Informa Healthcare, New York, 29-40.
7Park, J. W., Park, S. J., Park, K. Y., Ahn, G. Y., Seo, S. J., & Kim, M. N. (2019). P062: A study on the correlation of skin types with genetic factors and environmental factors in Koreans. 프로그램북 (구 초록집), 71(2), 354-354.
See what the doctors that use our system have to say.
Want to get a scientific customized skin care regimen? It all starts with learning your skin type. Click here to take the skin type quiz.
© 2006 - 2022 Skin Type Solutions