Dermaplaning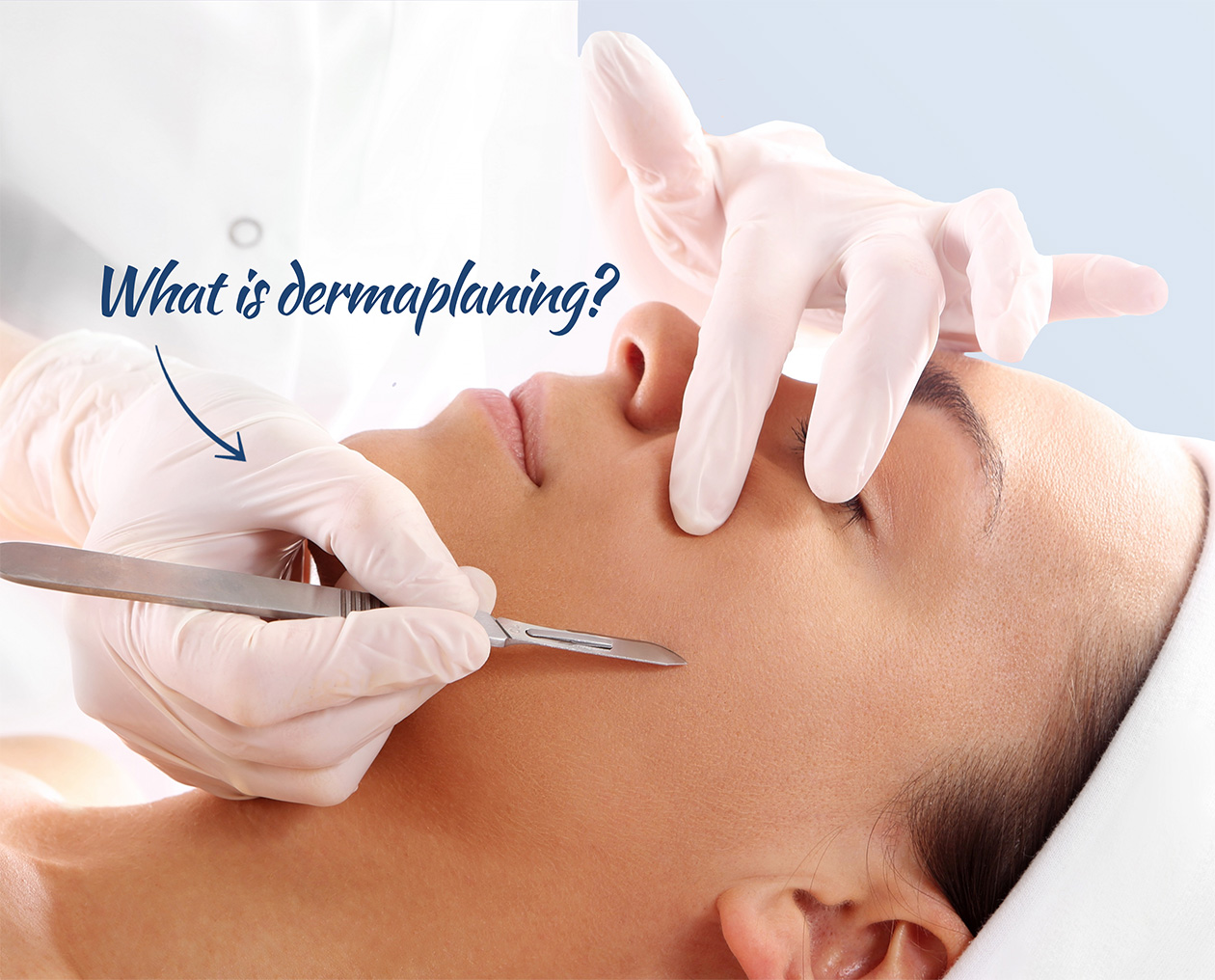 Dermaplaning
By Joanne McGregor- Skin Care Enthusiast
In the world of skincare and cosmetic treatments, I am a consumer that wants to keep things simple. I like to use as few products as possible without sacrificing key ingredients and I prefer treatments that don't take a lot of time but give me good value and good results. Which is why I love Dermaplaning.
Dermaplaning is a process of exfoliation and removal of Vellus hair (aka peach fuzz) using a surgical-grade scalpel. It is not shaving as is often a mistaken descriptor, rather, a precise removal of hair from deeper in the follicle as well as built-up dead skin cells. It is a simple treatment with diverse applications and is appropriate for most skin types. It can be a stand-alone option or can help boost results by being incorporated into a variety of other skincare treatments.
Vellus hair is a layer of translucent hair we all have that helps regulate body temperature and varies in thickness from person to person. On some people, vellus hair is barely visible while on others, it can be more obvious. For anyone self-conscious about their facial vellus hair, dermaplaning is a great way to help. As a non-ablative (no downtime!) treatment it can be a regular option to help control vellus hair growth. Dermaplaning is also less shocking to the skin than waxing so inflammation is kept low which lends itself to glowing, healthy skin.
My favourite application for Dermaplaning is to prep the skin for a chemical peel as a part of a Medical Facial protocol. It simply works better than a scrub to help clear congestion and dead skin. The blade gets under the built-up layer helping it to come off as opposed to working from the top down. Because of this, the skin is evenly cleared of excess build-up and the peel can penetrate deeper offering stronger results. Products applied after the peel step work better as well because the skin is clear of hair and debris.
I was most impressed by the results of Dermaplaning on a patient with cystic acne who habitually wore a heavy layer of foundation. Her dead skin build-up was quite severe and the treatment left her skin smooth, glowing and seemingly reduced some of her inflammation due to congestion. She then had a Salicylic/Lactic Acid chemical peel and, notably, was not as red as she typically got from the peel; it was able to penetrate instead of sitting stuck on the top layer of her skin which helped reduce visible irritation. Her results were stunning! Be careful choosing an aesthetician because doing a peel after dermabrasion can cause burning when not done properly.
1-3 days before a Dermaplaning session, stop using any active exfoliating ingredients such as Retinol and AHAs (Glycolic or Lactic Acid, for example). Avoid scrubs and any hair removal. Ensure you use an SPF daily and minimize your sun exposure 3-5 days pre and post Dermaplaning.
Dermablading is not recommended on active acne or acne prone skin.. For dry skin, Dermaplaning can help pave the way for hydrating products to work better and the exfoliation offers benefit for anyone that finds Glycolic or Lactic Acid too irritating. I would not recommend Dermaplaning for Rosacea-prone skin.
A fun bonus after dermaplaning is that make-up sits on the skin more smoothly and evenly after dermaplaning and medi spa clinics have patients that maintain regular dermaplaning appointments for this reason alone.
Keep in mind that this should be done by a trained professional! What makes Dermaplaning so effective is the combination of the proper tool at the correct angle. The surgical scalpel used is unbelievably sharp which prevents the blade from skipping or catching as it moves. The proper angle of the blade ensures clean removal of hair and built-up skin without damage. DIY at-home kits are absolutely not the same – it's best to leave it to the pros.
Personally, I'm a big fan. Dermaplaning fulfills my need for effective simplicity and offers both short and long-terms benefits. It can be a quick go-to or a part of a larger skincare strategy. And it delivers results which is always, always the goal. Score.
© 2006 - 2022 Skin Type Solutions