Psoriasis Skin Care Routine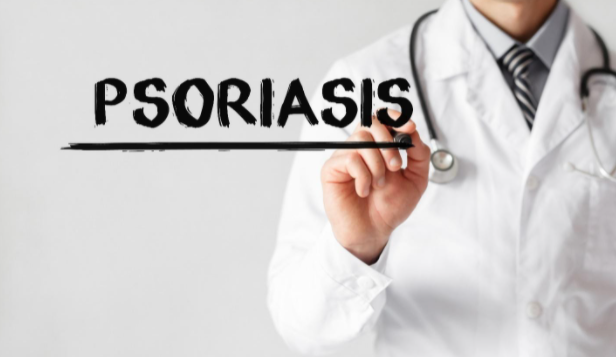 What is the Best Psoriasis Skin Care Routine?
Psoriasis is a long-term skin condition that causes red, itchy, flaky and scaly skin. It is caused by an immune response in the body, which results in skin cells multiplying faster than normal. It is not known what causes this immune response, and there is no cure for psoriasis.
Psoriasis can be an incredibly difficult condition to manage, and most people with this skin condition will experience periods where their psoriasis seems worse, before going into remission for a while.
Whether you are experiencing a flare of your psoriasis or it has subsided, maintaining an effective skincare routine for psoriasis can help to reduce the severity of flares and keep your skin looking and feeling as healthy as possible.
Here we share our favorite skincare products for psoriasis. Book a consultation with one of our expert dermatologists to learn more.
What is the Best Skin Care Routine for Psoriasis?
It is paramount to follow your doctor's recommendations for psoriasis creams or ointments to treat your condition. If they do not give you a medicated psoriasis cleanser or psoriasis moisturizer, here are our suggestions for psoriasis moisturizers and creams.
What Face Wash Is Best For Psoriasis?
Never use a mechanical exfoliator like a scrub on psoriasis plaques. Facial scrubs can injure the skin and cause the Koebner phenomenon which makes psoriasis worse. Do not use face brushes for psoriasis for the same reason.
Only use facial cleansers with soothing ingredients when you have psoriasis. Avoid bubbling soaps and instead choose a nonfoaming cleanser.
Psoriasis on the face should be treated very carefully as the skin here is incredibly sensitive. You'll want to opt for a natural psoriasis cream to soothe the skin.
Our favorite psoriasis cream for the face is Zerafite Barrier Repair Moisturizer, which contains argan oil and macadamia nut oil.
Argan oil is an anti-inflammatory ingredient that will soothe inflamed patches of psoriasis and keep the skin hydrated, while macadamia nut oil helps to prevent dry skin and repairs the skin cells.
Zerafite Barrier Repair Moisturizer also contains MLE Technology, which imitates the ratio of skin lipids to restore and protect the skin barrier. Research has shown that lipid disturbances are common in psoriasis, so restoring these natural fats to maintain the skin barrier's integrity is essential for the skin to hold moisture and protect it from further damage or infection.
Similarly, SkinCeuticals Triple Lipid Restore is infused with essential lipids - cholesterol, ceramides and fatty acids - to keep the skin hydrated and support skin barrier function.
This psoriasis cream also contains essential oils and vitamins to aid natural cell repair and fight further damage to the skin.
As most people with psoriasis will experience it on their elbows, knees and torso, selecting an appropriate psoriasis cream for the body is essential. You should choose a fragrance-free psoriasis cream to reduce the likelihood of further inflammation, as well as a skin barrier cream that will not rub off onto clothing.
Zerafite Ultra Rich Body Cream ticks all the boxes for a psoriasis cream for the body: it is an unscented cream that is safe to use in psoriasis and helps to repair and protect the skin barrier.
Myristoyl/palmitoyl oxostearamide/arachamide MEA is a group of fats that naturally mimic the skin barrier to soothe inflammation, and is infused into Zerafite Ultra Rich Body Cream. This is in addition to the anti-inflammatory argan oil; stearic acid, which helps the skin to maintain moisture; and glycerin, which heals and protects the skin, as well as moisturizing.
La Roche Posay Lipikar Balm also provides anti-inflammatory and healing properties, essential to keep flares of psoriasis under control. Shea butter is one of the main ingredients in this psoriasis cream, which is an excellent source of stearic acid.
Stearic acid is a fatty acid that is commonly used in emollient creams, which supports the skin barrier and locks in moisture to keep the skin hydrated.
Lipikar Balm has been clinically proven to reduce dry, rough skin, and provides instant relief from the itch and discomfort that psoriasis can cause. It is fragrance-free and non-greasy, so perfect for everyday use.
Finally, XeraCalm A.D Lipid-Replenishing Cream from Avène is perfect for dry, itchy skin, and specially formulated to minimize the risk of allergic reactions in even the most sensitive skin. This skin barrier cream contains evening primrose oil, which moisturizes and soothes the skin, as well as treating dryness, rough skin, and irritation.
Evening primrose oil also contains gamma-linolenic acid, which is a natural fatty acid that soothes the skin and is often used in skincare products for psoriasis and eczema. In addition, glycerin provides an emollient benefit to soften and hydrate the skin.
In Summary
Psoriasis can be quite a distressing skin condition to manage, which can greatly impact your confidence and quality of life. However, there are a number of very effective psoriasis treatments available these days that can help to keep your psoriasis under control.
You should complement any medicated psoriasis treatment with a skincare routine suited to your psoriasis that will keep the skin calm and hydrated. Choosing an unscented psoriasis cream that will help to heal the skin barrier is essential.
Speak to one of our dermatologist physicians about your psoriasis to find out what skincare routine is best for your psoriasis.
© 2006 - 2022 Skin Type Solutions